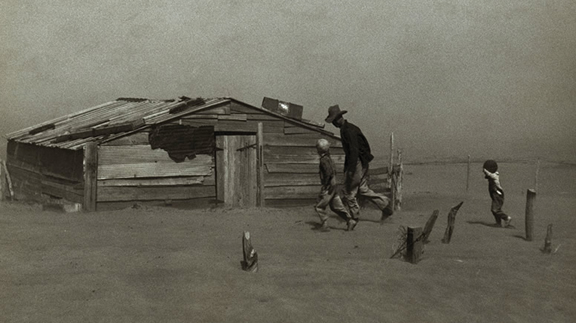 By Sarah Blaney
"In this democracy, national action to conserve soil must be generated by these millions of land users. If they are active and willing participants in such a movement, it will endure; otherwise it will fail," said Hugh Hammond Bennett, founder of the Soil Conservation Service now the Natural Resources Conservation Service.
For 80 years, Oklahoma landowners have been active and willing participants in a grassroots movement to preserve our soil and water.
This movement of locally led, voluntary, incentive based conservation has endured only because of the commitment and vision of farmers and ranchers who were willing to work with nature. This is the history of that movement.
Prior to the formation of Oklahoma's statehood in 1907, the western part of our state was a sea of native grassland. The soils underneath the grasses were fertile. Settlers came from the eastern United States to Oklahoma to farm these fertile soils. These farmers were encouraged to plow up the native grasses and plant wheat, cotton, corn and even potatoes. They did not realize that though the soil was fertile, it was sandy and highly susceptible to erosion.
Oklahoma was and continues to be a land of fierce wind with long periods of dry spells. The natural state of the soils coupled with bad farm policy led to the "the worst man-made ecological disaster in American history;" the Dust Bowl.
The Dust Bowl has become the term to describe a period in American history where a combination of drought, exposed soil, and high winds caused the worst erosion that the United States has ever seen. To make matters worse, there were also periods of extreme flooding. For example in 1934, 17 people died after heavy rainfall caused the Washita River in Roger Mils County to flood. During this time period, many farmers could not raise enough food to feed even their own families. It is estimated that more than 70,000 people left Oklahoma during the 1930s. The ones who remained used their experience during the Dust Bowl to form a better, more sustainable relationship with the land.
Throughout this time period, there was important work being done to mitigate water and soil erosion. In 1929, the first erosion control experiment station in the United States was established near Guthrie, Okla. This demonstration site measured soil loss on different management practices and helped show farmers the results of those practices. This demonstration work was expanded and farmers volunteered to participate and try different practices such as terracing and contour farming.
While the demonstration work was impactful and important, it was led by the federal government. It became apparent that in order for there to be lasting change, the support of local farmers was critical. In 1937, President Franklin Roosevelt encouraged all states to adopt a model of legislation that would allow farmers and ranchers to form their own local units of government known as "soil conservation districts."
Local farmers and ranchers would serve as the governing body for these districts and would determine their own water and soil conservation needs and priorities. To form a soil conservation district, citizens were required to gather a minimum of 25 signatures from their peers. That was not a problem for Oklahomans. On March 22, 1938, the McIntosh County Soil Conservation District was the first district formed in Oklahoma. By November 1938, Oklahoma had 24 soil conservation districts.
These early districts focused on educating farmers about different farming methods such as contour farming and terraces instead of straight row farming. They used demonstrations to show how different management practices affected soil and water erosion. Districts encouraged the building of ponds so producers would have surface water during times of drought. Districts were also active in flood control work on watersheds. This work included establishing small dams with conservation practices like grass plantings above the dams to reduce run-off. No federal funding was available for the dams during the early years. However, when federal funding became available in 1948, Oklahoma was the first state to receive funding for the Cloud Creek Watershed Dam in Washita County, Okla.
Today, every inch of Oklahoma is covered by a conservation district. Oklahoma has 84 state-appropriated conservation districts and one tribal conservation district. The districts are still governed by local farmers and ranchers who set the natural resource concerns and priorities for their own community. These conservation districts work every day to provide education, encourage the adoption of conservation practices through cost share programs, and showcase demonstrations of new conservation practices to their community.
Today, conservation districts continue to keep property and lives safe by operating and maintaining 2,107 upstream flood control structures.
The conservation district movement has endured and will continue to endure because of the continued commitment of local farmers and ranchers to continually learn and adapt to their natural surroundings.