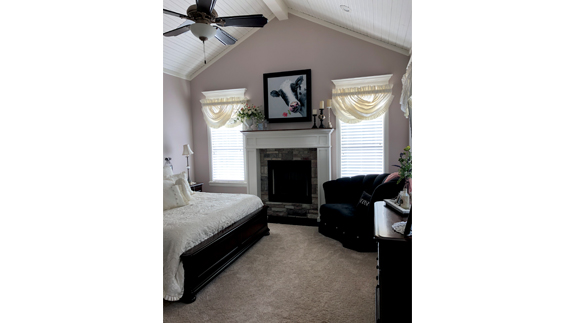 By Beth Watkins
When I met G.W., it was very evident that this country boy and this city girl lived in two very different worlds, just two hours apart.
Many country songs have been written about the attraction of these two worlds: Cowboys and Angels, Ol' Country, Ladies Love Country Boys. There is something very romantic about the idea of mixing boots and pearls.
The night that smooth talkin', ball-cap-wearing redneck wrapped me up in his arms and planted a long slow kiss on my lips, I knew my world would never be the same, but I don't think he realized to what extent his world was about to be rocked with all things girlie!
In the beginning, I was nervous about how to blend our worlds together. I was close to my family and grandbabies. But, he had a good job, so it only made sense for me to be the one to move.
So we got married and bought land. He promised to build me a house big enough for family to visit comfortably. I could see a challenge ahead of us. He likes everything to match, and his color pallet is earth tones. I love color, and I don't like matchy-matchy.
He's a rustic, log cabin kind of guy, and I'm a two-story pink Victorian kind of gal. We compromised and built a craftsman-style home.
When we met, his house was sparsely decorated; he had a few coffee cups all with advertisements written on them.
His plates and bowls didn't match. In the shower there was one bottle of three-in-one hair and body soap.
On his bed was a brown plaid comforter, accented by a solid brown bed skirt. He explained, that in the closet he had pillow shams that matched; it was a set called "bed-in-a-bag." I got the impression he was living very comfortably in a knick-knack free world.
Right before we met, I completely redecorated my home in a "Shabby Chic" theme, complete with crystal and bling. My decorating style is eclectic. It's a good thing G.W. got to know me before I invited him over because his impression of me and my house after visiting was, "This woman is going to be high maintenance."
After my house sold, we rented a U-Haul to move my things to storage until our new home was built.
Pick up the April issue to learn more!