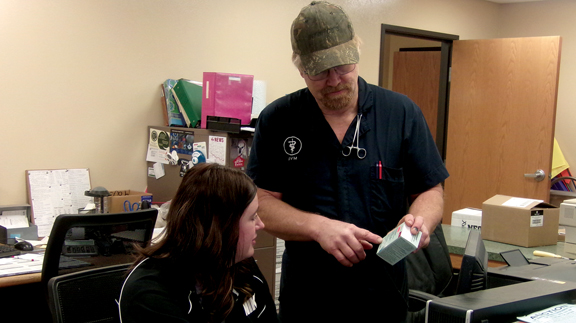 Jim Clark, DVM
By Judy Wade
When James Alfred "Alf" Wright, using the pen name James Herriot, wrote the book "All Creatures Great and Small" in 1972 about his adventures as a British country veterinarian, he was also describing Jim Clark, DVM, in modern day Oklahoma.
From cats to cattle, goats to geldings and all things in between, Clark cares for many kinds of animals.
"I once treated a boa constrictor with pneumonia and an elephant with trunk rot," Clark laughed.
Unlike many animal doctors today who specialize in either small or large animals, Clark treats both. At Jefferson County Animal Hospital in Waurika, Okla., with two full-time and one part-time office workers, he sees a variety of clients each day.
His clinic's hours are posted as 8 a.m. to 5:30 p.m. Monday through Friday and 8 a.m. to 12 p.m. on Saturday, but Clark is rarely able to observe those hours. His "typical" day begins between 6 and 7 a.m.
On the Saturday morning we talked, he had already tended to his personal livestock and doctored four sick calves at the clinic before we sat down at 8:30 a.m. His schedule for the day was to treat a calf that had just arrived, doctor a horse for the Stuart Ranch, treat a goat, work some cattle, give vaccinations, see a dog with allergies and examine a lame dog.
Clark also makes farm calls, some as far away as Burkburnett, so that schedule could be interrupted by an emergency. He typically makes four to five farm calls a week, but sometimes that number may be six to eight. It is not unusual for his day to end at 10:30 p.m.
"I'm through when I get done," Clark explained.
Born in Moriarty, N.M., his family, including three sisters, farmed and ranched, raising cattle and alfalfa. Graduating high school there, he attended Lubbock Christian College, and his parents moved to Wynnewood, Okla. In 1981, Clark was accepted to veterinary school at Colorado State University and graduated in 1985. What was his inspiration for becoming a veterinarian?
"I couldn't figure out how to buy a ranch and make it work to make a living," Clark said with a smile.
Working for six years at a vet clinic in Porter Hill, Okla., Clark bought his current practice in 1991 from Lane Corley, DVM and Bruss Horn, DVM. The ostrich business was big then, and he began working with the big birds, first on a part-time basis and finally full time before returning to his Waurika practice in 1996.
Clark and wife Sonya met and married in Waurika and have two children. Brady will graduate from pharmacy school at Harding University in Searcy, Ark., in May. Their daughter Brandi attends the University of Tennessee in Knoxville, working on her PhD in immunology.
In 2004, Clark built a new facility beside the old one at 8062 U.S. Highway 70, and the practice continued to develop. Clark processes 5,000 to 10,000 stockers and home raised cattle annually. When he has a barn assistant, that number is as high as 10,000 to 20,000. In addition, Clark oversees the Stuart Ranch breeding program of 40 to 50 mares.
The clinic boards animals but no longer has a groomer.
Read the May issue to learn more about this veterinarian!