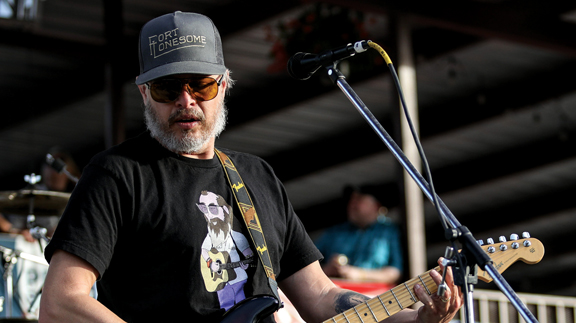 Jason Boland and The Stragglers
By Jan Sikes
Jason Boland and The Stragglers have been making a unique brand of raw and honest music for almost two decades. One of the most remarkable aspects of this band is the fact that three of them have been playing together since meeting in the early '90s at Oklahoma State University in Stillwater, Okla. Grant Tracy on bass and Brad Rice on drums, along with Boland, are the solid foundation of The Stragglers. While other members have joined them over the last 20 years, the three of them remained.
Born and raised in Harrah, Okla., Boland found a musical community in and around Stillwater that nurtured his desire to play music.
"Stillwater, because of the college and being the right-sized town, had just enough bars for bands to play and have people show up every night," Boland said. "Between the bar owners giving the musicians a chance to get out and play and hone their craft to the fans who would come out night after night, it was the perfect combination. It was crazy. I'm sure we are responsible for a lot of failing grades, but it was the perfect place for us to grow our art."
Boland describes Oklahoma as being the true middle of the United States. Steeped in history and storytelling, it gives the gritty songwriter a wealth of ideas and inspirations.
Boland writes almost all the songs they sing and record, and since coming together and making their first album, they have sold more than a half a million records independently and gathered fans from far beyond the Oklahoma borders.
That says a lot for someone who did not come from a musical background. Boland states neither of his parents played music but encouraged him by providing piano lessons and giving him his first guitar when he was in middle school.
It only seemed natural to segue into songwriting.
"I always gravitated toward the crafting of the songs and hearing them produced," Boland explained. "Then the next step is that someone has to play the songs you've written. I didn't grow up singing, and it wasn't my thing. I never really saw myself as a performer or entertainer."
But after almost 20 years of being the lead vocalist for The Stragglers, he is well established in that role. Any fan of their music will immediately recognize his voice when a song comes on the radio. He has a quality and unique tone that sets him apart.
"Some people have a gorgeous classic singing voice," Boland continued. "That isn't me. We've always tried so hard to be honest and write songs that were clever when they needed to be and lighthearted and funny when that was needed. I see music like a roller coaster. No one wants to be on just one level of a roller coaster, just go fast or just go slow. I've always been a buffet type of music listener, and that is what I became."
A buffet or smorgasbord of relatable songs is what you'll find when you listen to Boland's compositions.They have just released their ninth studio album, "Hard Times are Relative."
This album is a perfect representation of the concept that a band with one foot solidly in tradition does not have to be limiting.
Boland and The Stragglers are one of the rare groups who refuse to record their albums digitally (on a computer). Instead, they prefer to record on analog tape, and Boland admits it is hard to find producers and studios who still use this method.
"I think when music never comes into that full digital spectrum, it preserves something — a warmth that you can't get using any other method," Boland said. "It's the way I like to hear music."
Dave Percefull and Adam Odor produced "Hard Times Are Relative" at Yellow Dog Studios near Wimberley, Texas.
The album focuses on everyone's complicated relationship with the past while accepting the inevitability of change. Songs such as "Do You Remember When" and "Tattoo of a Bruise" address the need to preserve our history, while "Predestined" questions how much we control the future.
Pick up the May issue to learn more!