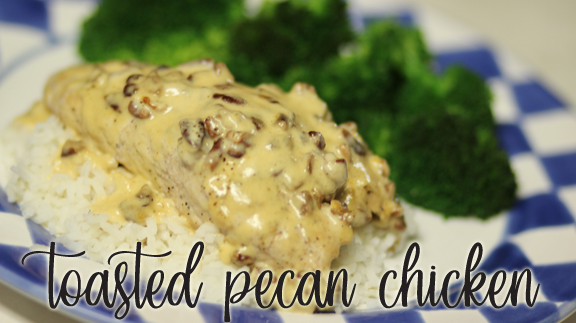 By Lacey Newlin
This is a hardy meal to serve after a long day of work on the farm. The pecans add texture and the sauce smothers the chicken with flavor making this a great family meal that can be thrown together quickly.
Total Time: 20 minutes
Serves: 4
Ingredients
4 boneless chicken breasts
1/4 tsp pepper
1/4 tsp salt
3 Tbsp butter
1 1/2 cups whipping cream
2 Tbsp orange marmalade or apricot jam
1 Tbsp Dijon mustard
3/4 cup chopped toasted pecans
Instructions
Pound chicken thin between wax paper. Season with salt and pepper. In a large skillet, melt butter. Cook chicken over medium-high heat for three to four minutes per side.
Remove chicken from skillet. Reduce heat to medium, adding whipping cream, marmalade or jam and mustard; stir well. Add chicken, sprinkle with pecans, and cook eight minutes or until sauce thickens. Serve over rice, if desired.