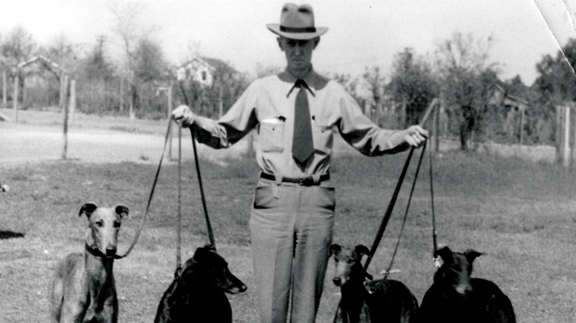 By Judy Wade
In the 1950s, transportation was not just a means of going places. It was the name of what is perhaps the greatest greyhound racing dog to ever come out of Oklahoma. Fred Morris' "Transportation" was named Outstanding Sire in the greyhound world in 1956 to 1957. He and his offspring were "going places" in the greyhound racing world, with his pups making him a symbol of speed and potency.
Born in 1887 in San Saba County, Texas, Morris moved to Cornish, Indian Territory, when he was five. He married Orela Baucom, and they had three children.
Beginning with working for his father in J.H. Morris and Sons Grocery and Market in Ringling, Okla., Morris himself was a businessman for 42 years before going into ranching and dog racing. He operated Morris Meat Market on Main Street where most of his family worked.
Daughter Bernie became a teacher and married Delbert Brazeal, who eventually bought out the meat market and started Delbert's Grocery in several surrounding towns. His Ringling store became Syble's.
Son H.L. became a businessman in Ardmore, Okla., owning a furniture store and other enterprises.
Daughter Oneta married E.C. (Dick) Dillon and opened a successful ladies' clothing store in Ringling. Dillon went into the greyhound business with his father-in-law.
Morris and Dillon maintained a state-of-the-art kennel behind the family home on the east side of Ringling. Morris' grandson Guy Dillon recalled the routine each morning and night. The kennel housed more than 100 dogs and had double-decked cages for feeding. Each dog was fed twice daily and had a special ration made of ground meat, cracklings and dog food mixed by Dick Dillon on-site.
Each dog's food was weighed. One group of dogs was turned out at a time, and each dog soon learned where his cage was and jumped right in and the door was shut. When those were finished, they were turned out and the process was repeated until all were fed.
"We kept milk cows, and as soon as the puppies could get around, they were fed a mixture of cow's milk and dog food in addition to their mothers' milk," Dillon added. "Lonnie Allen was responsible for the cows and the milking."
Young dogs were kept in pairs in runs under long sheds, allowing them to exercise and develop. A straight training track was built northwest of Ringling where the young dogs began their lessons, chasing a rabbit that ran to the end of the track and escaped into a pen to be used again. A modern oval training track in Cornish provided the next step. Muzzles kept the dogs from fighting each other and biting the lure that became standard use instead of a live rabbit, Guy continued.
Read the June issue to learn more!