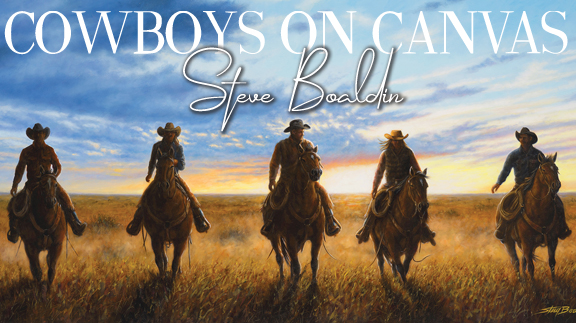 Cowboys on Canvas
By Laci Jones
He never dreamed he would be on television. The humble artist with a kind smile expressed his vision to tell the stories of cowboys through his art, but God had other plans for the artist. Through his new television series titled "Art of a Cowboy," Steve Boaldin meets with different cowboys and ranchers across the Midwest to share their stories on the screen as well as on canvas.
A cowboy himself, Boaldin's own story began on a ranch in Elkhart, Kan., in 1962. The most enjoyable part of his childhood was working cattle as a family.
"I was very fortunate that God allowed me to be born and raised on a ranch or none of this would've happened," the cowboy explained. "We were big farmers and ranchers, but my particular interest was ranching."
His father made sure all five of his children knew how to ride horses. They attended many rodeos throughout the years, a sport that Boaldin picked up on. His parents did not want him riding rough stock because of the danger involved, but the 10-year-old cowboy had other plans.
"I had three buddies who had already been riding steers for a couple of years, and I wanted to do it so bad," he added. "One of my teachers secretly entered me in a steer riding contest in Clayton, N.M. I told my parents I was just going to go and watch the other guys."
The young steer rider placed fourth in the rodeo and won a belt buckle.
"I had to hide that buckle for a couple of weeks because I did not know how to tell my parents," he added.
Boaldin finally told his parents the truth. While he was in trouble for deceiving them, they decided to give him another chance at the sport. He went on to win first place in the next three rodeos. He started riding bareback broncs and continued to rope calves, but bull riding was his best sport.
"Cowboys are a symbol of rugged, tough Americans," he said. "Cowboys will always be something that's bigger than life to me."
The cowboy lifestyle would become the focal point of his art, which started at three years old. Boaldin told funny stories with his little cartoons.
His family fostered his passion for drawing by keeping his artwork. His grandmother, who was also a good artist, noticed the young artist's talent. She gave him Walter Foster art books that helped young artists learn how to draw. She also encouraged him by providing him with his first paint set.
A self-described "average student," Boaldin did not attend a formal college after graduating high school but worked on the family ranch instead.
"I had no plans to go to school because I was just young and did not know what I wanted to do," he added.
The year before he got married, some locals met a traveling art teacher named George "Dord" Fitz and took a few classes. The locals told the artist about Boaldin's abilities and suggested he help the young artist.
"His first thoughts were 'There is no way an 18-year-old was going to be serious about art,'" Boaldin explained. "He was in his 70s at that time, but we just clicked when we met."
Fitz was generous and allowed the Kansas native to take two classes for the price of one for two years. Before, he had worked primarily with black and white, but he began to learn to understand color theory and how to apply paint from Fitz. He described the experience as "a whole new world."
"It was a big change for me because not only do you have to pay attention to the values, but you have to pay attention to hues," the artist explained.
At the end of those two years, Boaldin married his high school sweetheart in 1981, and he quit taking classes to focus on providing for his family.
In 1982, he decided to get serious about his art and moved to Amarillo, Texas, where Fitz had a gallery. He picked back up on taking lessons from him while working full-time in feedlots. Boaldin lost many hours of sleep, but his hard work paid off when his mentor began selling his pieces.
"Even at that age, he was very encouraging," he explained. "He would tell people 'Someday this guy is going to be famous, and you need to get in on his early work.'"
While he almost expected to be famous, Boaldin said it did not work quite that way.
"I heard this guy say it takes thousands of miles of canvas to improve," the artist said. "That is basically what I've found to be true. We want to throw some stuff away, but at the same time, it's good to see where you come from."
In 1985, the Boaldins moved to Elkhart, Kan., where he started working in feedlots and with his dad on the ranch. However, it did not take the artist long to realize he could not support his family there, but he wanted to stay in the industry.
"I couldn't get the cowboy stuff out of my blood," the cowboy explained.
Throughout the next few years, he worked on various feedlots in Texas, but he found he enjoyed the ranch life better. He took a job in Miami, Texas, managing 19-sectioned pastures. They ran 1,200 head of yearlings and farmed 600 acres of wheat.
"It was 10 days a week," Boaldin joked. "It was one of those deals where I really had to grow up really fast. I knew that was not a place where I was going to end up, but I'm thankful for the experiences. I know what it takes when I do a painting because I've been there."
The experiences on ranches and feedlots gave him a subject for his art, but his wife Donna was credited for pushing the artist to pursue his passion. She knew he wanted to be an artist, and she suggested Boaldin get a commercial art degree.
"I knew I would never be able to work 60, 70 or 80 hours a week on a farm and be an artist," he explained. "Realistically, I needed to get in the field in some way."
They relocated to Edmond, Okla., where he was able to get a grant to further his education. The Kansas native enrolled in production art at Platt College.
Boaldin was later hired by "The Oklahoman" in their advertising department, but he became an editorial artist within six months. The artist honed his skills drawing illustrations, which he said helped his art grow.
"I've always studied the illustrators of the '70s," Boaldin added. "Those guys got to paint and draw every day. By the time computers started coming in, the artists didn't have to do as many illustrations."
The artist was fortunate to have several opportunities to work on illustrations. He also learned how to work quickly, a skill that benefited him later. He was a commercial artist for "The Oklahoman" for a total of 24 years. When he was laid off in October 2016, he did not know what God had in store for the next chapter of his life.
"I do believe in God," he began. "I believe in his timing. He always kind of pushes me to the last second."
His next chapter began when the owner of the Dean Lively Gallery in Edmond, Okla., Elaine Dean, hosted an opening night for the artist. Saraa Kami left her card with his wife Donna.
At the urging of his wife, the husband-wife duo met with Kami the following day. The artist told her about visiting with a client, who happened to be a Drummond, at the Tallgrass Art Gallery in Pawhuska, Okla., earlier that year.
"I wanted to get some different cowboys and go to a different ranch," Boaldin recalled.
He visited their ranch in Hominy, Okla., in spring 2017, where he took approximately 1,200 pictures of the cowboys, animals and scenery. He then used the material to create more art for his collection.
"I said this is something that just really hit me," he recalled. "I would love to go to ranches all across the United States and tell their stories."
When he told her this, Kami knew how to tell their stories to the masses. She envisioned a television series centered around the idea of visiting ranches and telling their story on canvas as well as on screen. Ralph and Helen Mason sponsored their new endeavor.
"Within five days of conception of the idea, we were on my family's ranch filming the first episode," the artist recalled. "It was that quick, and believe me, I was a deer in the headlights."
They had enough footage to create a trailer for "Art of a Cowboy," which Kami sent to the Oklahoma Education Television Authority. OETA bought the idea from that trailer, listing Kami and Boaldin as co-creators of the show.
Pick up the June issue of OKFR to read more about Steve Boaldin and "Art of a Cowboy."