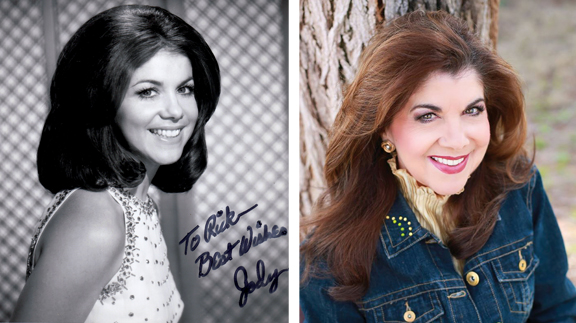 Jody Miller
By Jan Sikes
How many of you remember the hit song, "King of the Road?" While Roger Miller was the King of the Road, Jody Miller was the "Queen of the House."
Oklahoma recording artist, Jody Miller (no relation to Roger Miller), had a monster hit with the song "Queen of the House" in 1966, but that was not her first hit.
Discovered by the actor Dale Robertson in the early '60s, Miller signed with Capitol Records in 1963 as a folk singer.
"I went in and cut an album called Wednesday's Child, and I think it sold all of two copies and that's because my mother and dad bought them," she recalled. "Folk music was on its way out."
That was only the beginning.
"There was a gentleman who worked for Central Songs," Miller said. "Central Songs was headed by Cliffie Stone, which was a big name in the Country and Western field in Los Angeles. He had a man working for him by the name of Joe Allison, who was the top-notch song man. He was a songwriter, too. But Joe signed a 17-year-old girl, Diane Hildebrand, to his publishing company and she wrote the song, 'He Walks like a Man.' Joe brought it to me. He realized the company didn't know what to do with me because the folk songs didn't make it. So, we went into the studio to cut it, and I went from a three-piece folk group to a 22-piece band waiting to record this song. I was overwhelmed."
That song, "He Walks like a Man," shot up the charts making it Miller's first Billboard hit. It was a game-changer. On another interesting note, they released the song on the same day of President Kennedy's assassination.
Miller was off and running. She worked up and down the West coast. Some say Miller was a pioneer paving the way for artists such as Linda Ronstadt and Anne Murray. She earned the distinction of being a crossover and versatile artist.
The next song to make a splash for Miller was "Queen of the House."
"That song was written by Mary Taylor," she said. "Roger Miller had the smash hit with "King of the Road," and she and Roger were friends. She called Roger up one night and read him the lyrics. He told her it was a hit and she should cut it. But, she could not cut it because she already had a song on the charts. Back then you could not have multiple songs on the charts, except for The Beatles, of course."
So, through a roundabout way, it came to Miller to cut.
"I was over in Europe doing the San Remo song festival, and when I got back, I met with my producer at Capitol," Miller said. "He told me he had a hit record for me to cut, but we had to do it as quickly as possible. So, I went in, and in five days they had the record out. And, they could not press the records fast enough for the demand."
Now, that is a great situation for any artist to be in. That year, Miller was nominated for two Grammys, Best Artist and Best Female Country Vocal Performance. She walked away with the coveted award for Best Female Country Vocal Performance.
I asked her to share that experience.
"Jerry Lewis was the emcee that year, and the awards were held at the Beverly Hills Hotel in Los Angeles," she added. "My husband and I sat at the table with my producer, and when they called my name, I went up the steps to receive the award. Jerry Lewis handed it to me and asked if I wanted to say a few words. So, I said, 'I just want to thank everybody. You know who you are.' Jerry Lewis cracked up laughing and said he was going to remember that line and use it. So many people helped me, and I didn't want to leave anyone out. The whole thing was quite an experience."
Read the June issue to learn more!