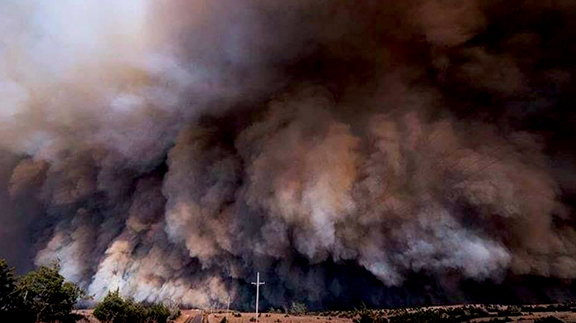 By Ddee Haynes
It had been more than two months since any moisture fell in western Oklahoma. The winds were fierce for weeks and the lack of moisture caused the grass and forage to become crunchy. A high fire alert and a burn ban were in affect for the majority of western Oklahoma.
I do not believe anyone knows for sure what, or who, started the first spark that set the wild fires full blaze. If it was an accident or intentionally set is still a mystery that may never be solved. Only one small spark is all it took to set a fire that claimed two lives, burned more than 365,000 acres, thousands of head of cattle, hundreds of horses and other livestock not to mention homes, barns, equipment and the livelihood of many hard-working farmers and ranchers and residents. The fire showed no mercy. The fire was like an out of control monster eating everything in its path and often moving and burning at the rate of 50 feet or more in less than 15 seconds. The winds continued to blow with gusts up to 45 mph, making the fire even harder to contain.
Just when it seemed some headway had been made, a flare up from a hot spot or a flying ember would reignite or start another fire.
Hundreds of firefighters and volunteers like rancher Joe Powders, who knows all too well the loss caused by wildfires, worked fiercely and tirelessly battling the flames. In addition to the firetrucks, air tanks, water trucks, dozers and helicopters were brought in to try and contain the fires that burned out of control for more than a week.
Pick up the June issue to learn more!