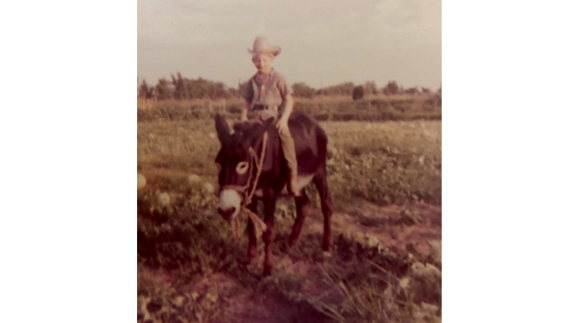 By Beth Watkins
When we were kids, our most anticipated time of the year was summer. Summer break was meant to be a time to let our brains have a vacation from our studies, a time for Dick and Jane to run and play, barefoot outside with Spot.
I'm pretty sure our summer breaks, here in Oklahoma, were scheduled around the heat indices. We started school after Labor Day, when the temperatures began cooling off, and we got out of school in May, when the temperatures began heating up.
Our schools did not have any air conditioning. Can you imagine today's little tykes, Braxlee and Rivers having to go to school without any air conditioning?
My husband, G.W., remembered helping in the hay fields when he was 10 years old. He was in charge of bringing water and tools out to the guys working in the hay meadow. He wasn't big enough to push the starter button Back then, it was in the floorboard of the truck.
With the truck in gear, he would get down to push in the starter, and then he would jump back up in the seat to steer it out to the pasture. He played out of the way and stayed near the truck listening for his daddy to whistle for him to come out to them.
He entertained himself without an iPad or cell phone. Can you imagine today's kids entertaining themselves while keeping an ear open for instruction in the hot Oklahoma sun without sunscreen?
Before he was old enough to help in the hayfield, he hung around the house with his mom. He was around the age of five when the neighbors brought him a Ginny. As the stock trailer was backing in, the little cowboy, with gun and holster on his hips, was standing off to the side with his daddy, and the donkey began braying. With raw excitement he squealed, "Do you hear my horse, Daddy?" That summer, the little cowboy and his horse had many adventures.
One special activity was prospecting for gold. G.W. would lead his "horse" to the front porch where he could get on her, then ride out to the garden where he would pick the ripe cantaloupe or as little George would call them, "gold nuggets."
One day his momma was at the kitchen window watching her baby boy ride his "horse." When they were approaching the gate, the tiny cowboy hollered, "Whoa," but the stubborn Ginny hesitated to respond to the order. When she finally did, G.W. went flying forward and hit the ground.
He picked himself up, dusted himself off, put his little cowboy hat back on his head, walked straight up to the culprit, grabbed her halter and punched her square in the nose and said, "I said woah, you son of a 'biscuit.'"
Read more in the June issue!