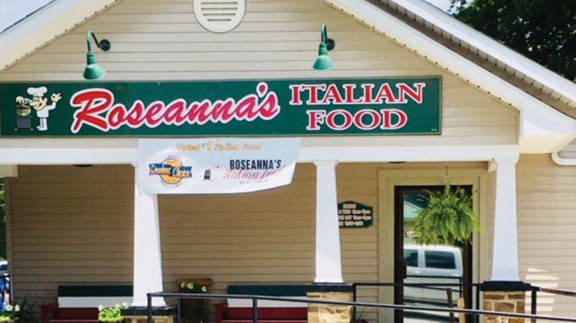 By Kristi Hawks
For this issue, I started my day with a trip to my veterinarian to drop off my mini Australian Shepherd dog, Oscar, for a day surgery. He rides okay in my truck as long as he gets to share the front seat with me.
After I dropped him off, I wandered north on Highway 69 and ventured to the town of Krebs, Okla., near McAlester, Okla. It was a peaceful drive and the area had some recent rain because the grass looked plentiful and the cows and calves in the pastures appeared content.
Once in Krebs I noticed the town sign advertised it as "Oklahoma's Little Italy" and as I drove around, I did see several Italian restaurants and a specialty store. I stopped at this quaint yellow house with a small add-on called Roseanna's Italian Food.
As I walked into Roseanna's I could tell it was a family-friendly restaurant and the walls were filled with pictures of the family members, history of the restaurant and previous articles written about the restaurant. The host seated me immediately in the add-on room but as I walked through I noticed a smaller room off the side that was probably used for family parties.
The menu was complete with appetizers, pizzas, salads, sandwiches, specialty dinners, pasta dinners, other entrees, and a children's menu. On the back was also a listing of lunch specials with smaller portions, combination dinners of the main specialty and entrée dinner choices. The restaurant also offers carry-out ordering and catering.
It took me some time, but I decided to try Frank's Combination Platter. It came in a half or quarter-size portion, so I opted for the half, knowing I would have some leftovers to take home. The combination plate had a piece of Clare's lasagna, Vincent's handmade ravioli (beef), Nana's gnocchi (handmade potato dumplings covered in red sauce), spaghetti and a meatball. The family members all had a hand in creating the dishes in this restaurant.
A house salad was served with their house dressing and a side of garlic bread. The dressing was amazing with great flavor. I did use some of the dressing to dip the garlic bread in which made the warm bread taste even better.
Everything on the combination plate was covered in Roseanna's famous red sauce. I tried everything, the meatball had great seasonings. The meat ravioli was probably my favorite on the plate. The spaghetti and lasagna were wonderful, and both were cooked just right.
Read the July issue to learn more about this restaurant!