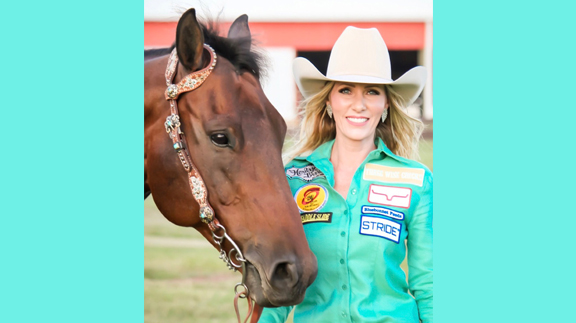 By Krista Lucas
If you follow barrel racing and other equine events, you may have noticed a bright-eyed, cheery blonde behind the scenes. "Behind The Alley" is one of western industry's newest brands to showcase event highlights and new products from nutrition to performance. Amber Manley, the creator of "Behind the Alley," gets up close and personal with some of today's top trainers, competitors and producers, in and out of the arena.
"My long term vision is to hopefully become a show producer's go-to on helping brand their events while mixing the contestants among the marketing side," Manley said.
Manley calls Houston, Texas home and did not come from a rodeo background. In 2011, her husband traveled quite a bit for work, so she decided to buy a horse to start a new "little hobby." What started out as being a scary new adventure, turned into a passion that would lead to her starting a brand new business.
"I turn a can't into try, and I did just that," Manley said. She started "Behind the Alley," after realizing she was given an opportunity to showcase dedicated trainers who share a mutual passion for horses. Along the way, she has learned about the industry's innovative products and supplements. Any chance to share knowledge directly from a product, to consumer and trainers, is what "Behind the Alley" is all about.
"Best part of running my business is the connections made along the way, finding skill sets I never imagined I held," Manley said. "As for growing my business, it is all happening so fast." She has given her followers coverage from the Wrangler National Finals Rodeo, Rising Stars-Future Stars Calf Roping and the Better Barrel Races World Finals to name a few, keeping everyone up to date on the latest equine news. She is one of the best when it comes to promoting some of the finest new products out there.
"As for my brand, that's where things have gotten fun," Manley said. "I am ecstatic to have been given a saddle line with Sports Saddles by Bob Marshall. I only ride treeless and have never looked back, so when the Sports Saddle team gave me an offer to represent the average rider to a pro level rider I couldn't sleep. I have other opportunities in the works, which I wish I could share, but in time I think those will launch before this year's NFR, so stay tuned."
Manley also recently signed a sponsorship deal with 5 Star Equine Products to create a treeless saddle pad that brings comfort to horse and rider. She is excited to have the opportunity to collaborate with a company she believes in and "Behind the Alley" can promote. "Might I add, it's nice to see companies that don't base opinions and feedback from only the pro-level riders," Manley said. "Goes to show you that the industry is evolving with open minds."
Read the July issue to learn more!