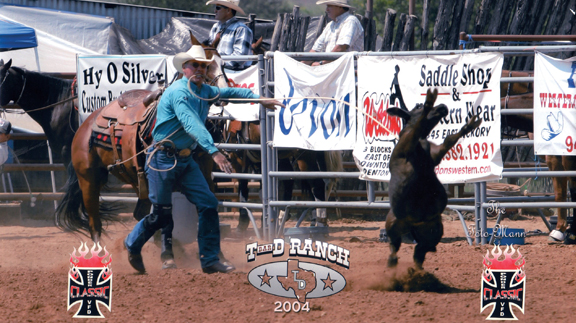 Giving Back
By Judy Wade
"When I began roping, Barry Burk offered to mount me, help me enter and we traveled together," said Gary Ledford of Burk, a 17-time National Finals Rodeo qualifier. "I had a good horse, but we always took his, too. He helped me win. He made me believe in myself."
That is exactly what Ledford is doing today: giving back. He is helping youngsters learn the fundamentals of calf roping and breakaway roping at his ranch southwest of Comanche, Okla. Each Tuesday evening, Ledford mentors as many as 11 boys (and occasionally girls) in his barn built especially for roping events and has been doing so since 2002.
"Five to six is the number I like to have at one time to do a good job," Ledford explained.
Ledford is certainly qualified to pass on the techniques a good roper needs to be successful. He qualified for the NFR nine times when it was still held in Oklahoma City before the move to Las Vegas. He set an arena record at Calgary during his first year as a Professional Rodeo Cowboys Association card holder, posting a 12.9 behind that notoriously long barrier. He received a beautiful bronze statue of a calf roper to commemorate the event. His favorite rodeo is Cheyenne Frontier Days, which he won in 1971.
The Copenhagen Skoal roping in 1977 was his biggest win, pocketing $15,000, the most amount won by any tie-down roper at a single event up to that time.
"That win helped me more in my life than anything," he explained. "That was a lot of money then. I was able to start buying land and putting cattle together."
The entryway to his ranch reads "15 Grand" in honor of his biggest win.
"I brand my cattle with 15G," he added.
Born in Temple, Okla., to Ernest and Jewel Ledford, he has three brothers and two sisters. The family lived in the Corum community area where Ernest bought and sold hay. After graduating from Comanche High School, he and high school sweetheart, Carol Sitton, were married.
They have two children who traveled with them in the summer. Their son, Morris, followed his father's footsteps and became a PRCA tie-down roper, qualifying for the NFR in 1992. He and his family now live in Idaho. Their daughter Misty and her family live near Ledford's ranch.
"I started rodeoing as an amateur tie-down roper my senior year in school, making $150 to $200 a week before joining the PRCA. That was better than working for a living," Ledford laughed. "I met a lot of good guys and made a lot of friends on the road."
Good horses are essential in tie-down roping, and Ledford had his share.
Read the July issue to learn more about Gary Ledford.