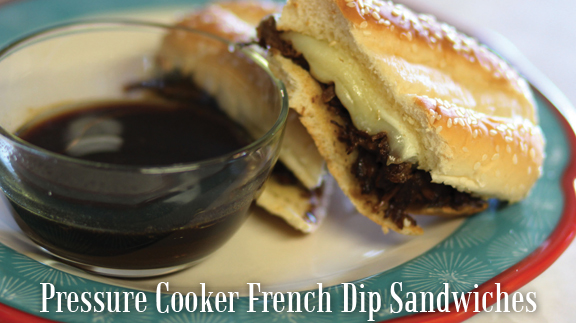 By Lacey Newlin
Servings: 8
Total Time: 2 Hours
Ingredients
3 to 4 pound chuck roast or bottom round beef roast
1/2 tsp salt
1/4 tsp pepper
1/2 tsp onion powder
1 tbsp olive oil
1 (1.25 ounce) package dry
Au jus mix
1 (12 ounce) can beer
3 tbsp butter, melted
1/4 tsp garlic powder
12 slices of provolone cheese
8 large hoagie rolls
1 tbsp chopped parsley
Directions
Let roast rest at room temperature for at least 15 minutes before searing. Add olive oil to pressure cooker and hit sauce button. Season roast with salt, pepper and onion powder. Sear roast on all sides in pressure cooker. Sprinkle Au jus packet over the roast, then pour beer over the roast. Close lid and make sure pressure release valve is set to sealing.
Turn pressure cooker to meat/stew function and set time for 100 minutes. After the 100-minute cooking time is complete, let pressure cooker naturally release for 25 minutes, then turn valve to venting to release excess pressure. Remove lid and transfer meat to serving plate, shred meat. Set oven to broil and place sandwich rolls on a baking sheet. In a small bowl combine butter and garlic powder.
Brush over rolls and broil under low heat for three to four minutes, just until golden brown. Pile meat onto rolls and top with cheese. Return to broiler and heat just until cheese has started to melt. Top sandwiches with freshly chopped parsley. Strain liquid left in pressure cooker with a fine mesh strainer. Serve strained Au ju with sandwiches for dipping.