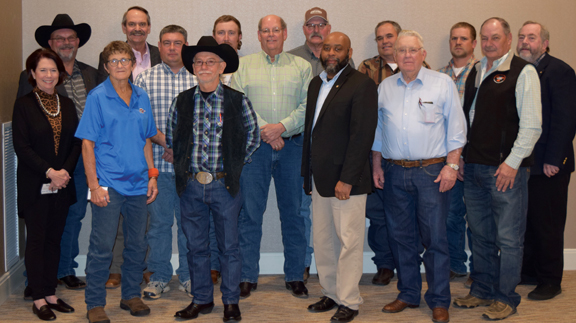 By Chris Cox
Social movements are a lot like agricultural operations. An idea, much like a seed, has to be nurtured, cultivated and grown into something that people can believe in and grasp. Movements, again much like agriculture operations, also must be passed from generation to generation so the success of the movement (or ag operation in this ever-weakening analogy) can continue to live. The Oklahoma Association of Conservation Districts (OACD) is doing its part to continue the conservation movement through the OACD Conservation Leadership Class.
Starting with people like Hugh Hammond Bennett, Aldo Leopold, and other conservationists, the conservation movement has always been driven in local communities by local leaders. Bennett, the man who started the Soil Conservation Service (now the USDA-Natural Resources Conservation Service), once said, "National action may be led and aided by government, but the soil must be conserved ultimately by those who till the land and live by its products."
It is that sentiment that led to the passage of the Soil Conservation Act in 1936 and, ultimately, individual state laws establishing conservation districts.
The OACD Conservation Leadership Class began in 1997 as a way to encourage Conservation District directors to take a more active leadership role in spreading the conservation message throughout Oklahoma. It is also designed to highlight and enforce the conservation partnership in the state between the Oklahoma Conservation Commission, USDA-Natural Resources Conservation Service, and OACD. This year-long course meets every other month for two days to discuss various conservation related topics. The class held its first meeting in February at the OACD State Meeting at the Oklahoma Conservation Commission office in Oklahoma City.
To participate in the Leadership Class, candidates must be a conservation district director or associate director, fill out an application and submit a letter of recommendation from their district board. The goal of the class is to "provide directors with a comprehensive overview of conservation in Oklahoma." The leadership class will hear about topics ranging from water quality to soil health to conservation planning. They will also discuss abandoned mine land reclamation, watersheds, threatened and endangered species, and conservation issues on tribal lands.
Pick up the July issue to learn more!