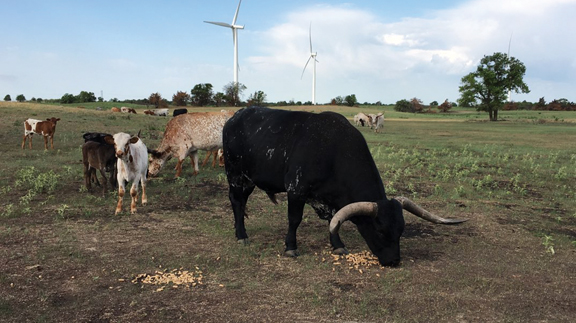 By Ralph Chain
We started raising Longhorns in 1964. We bought our first Longhorns in the Centennial Drive, a celebration of the 100-year drive from Texas to Dodge City, Kan.
We bought two cows and a yearling bull, Don Quixote, in that sale. The two cows came from the Y.O. Ranch. One of the cows was a yellow and white registered Longhorn cow.
This cow was around two years old when we bought her, and we kept this cow till she died — probably 14 or 15 years. Each year she would have a heifer calf. After about 10 years of keeping these heifer calves, we had Longhorns everywhere.
We have been in the Longhorn business for more 54 years. I do not know how many people we have helped start their Longhorn business, but there have been several. I have thought about getting out of the Longhorn business a couple times, but for some reason I have not sold them yet.
We bred Hereford heifers and commercial heifers to Don Quixote because we did not have to pull any calves. We later sold Don Quixote to a well-known artist by the name of Darell Dickerson for $600. Don Quixote has been sold quite a few times. Dickerson took him to Colorado and used him, then sold him to a man in Wyoming. The man in Wyoming sold him to a man in Texas. Then Dr. Baker from Elk City, Okla., bought him. He called us and asked if we wanted to see Don Quixote before he died. Darla and I went to see him, and the next day he died.
Today, we have a bull in the Longhorn pasture that looks just like Don Quixote, except he has longer horns.