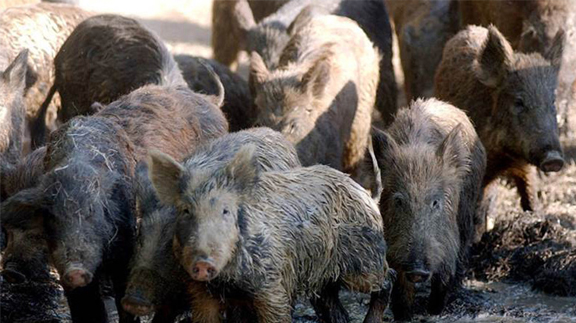 By Chris Cox
Feral hogs are a problem in Oklahoma. They have been spotted in every county in the state, which means no matter where you go, feral hogs are not far away. While it's hard to put a total on the number of feral hogs in the state, (some estimates show it could be as high as two million) we do know the statewide monetary damage done by feral hogs is between $100 million and $200 million annually.
That does not consider all the time and labor that landowners or public officials spend trying to repair the damage done by hogs.
"We've had 50 acres destroyed at one time," Trey Lam, a farmer and rancher from Pauls Valley, Okla., and the Executive Director of the Oklahoma Conservation Commission said. "Sometimes the hogs will root up a certain distance on each row of corn and then move to a different row."
"So have these strips and angles across our field where we won't have any crop," Lam went on to say, "We've seen in beans and wheat where they've actually rooted up the ground to the point where they weren't just getting the individual seed but created a wallow and moved the earth around."
One reason actual numbers of feral hogs are hard to pinpoint is the personality of the hogs. Feral hogs are migratory animals that can travel up to 19 miles a day.
Learn more in the September issue of OKFR.