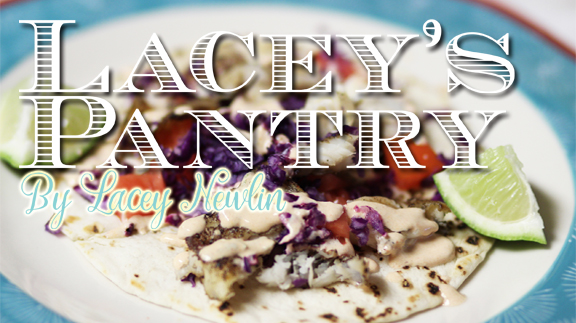 By Lacey Newlin
Total Time: 45 minutes
Serves: 6
For Dressing:
5 limes
1 (8) ounce container
light sour cream
1/2 cup adobo sauce for
chipotle peppers
1/2 tsp Old Bay seasoning
1/4 tsp chili powder
1/4 tsp cumin
For Fish:
1 tbsp olive oil
1 pound halibut or other firm
white fish steaks or fillets
1/4 tsp salt
1/4 tsp black pepper
12 flour tortillas
3 cups shredded cabbage
2 ripe tomatoes, diced
1/2 cup chopped cilantro
Instructions
Make dressing: Zest 3 limes, then juice 1 of them. Stir together sour cream and adobo sauce in a bowl. Stir in 2 tbsp lime juice, 2 tsp zest, old bay, chili powder and cumin. Cover and chill until ready to grill.
Prepare fish: Preheat an outdoor grill to high heat and lightly oil grate.
Brush oil on both sides of fish, then sprinkle with salt and pepper.
Arrange fish on grate and grill, turning once, until it flakes easily with a fork, 3 to 4 minutes per side. Cut into 12 pieces. Grill tortillas about 15 seconds per side. Arrange fish in center of tortillas; top with cabbage, tomatoes and cilantro. Drizzle with dressing. Garnish with wedges cut from remaining limes. Enjoy!