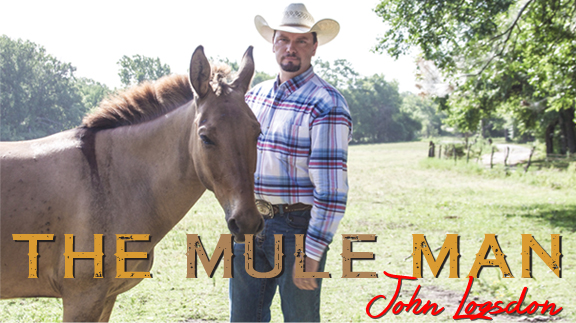 By Rosemary Stephens
John Logsdon doesn't view himself as an expert on mules…but he comes pretty close.
Logsdon, 34, has been riding and working with mules since 12 years of age when his grandpa, John T. bought him his first mule to train and sell.
Nestled in the rolling hills outside of Ada, Okla., in a small town called Fittstown, Logsdon and his wife Fredonia have anywhere from 40 to 50 head of mules grazing peacefully with a few always saddled ready to ride. With over 280 acres on their homestead, there is plenty of open space to ride.
"This is my grandparent's place and we grew up about two miles from here," Logsdon said.
Logsdon said he and his three siblings would spend entire summers walking, riding and going swimming on his grandparent's land, now his own.
"We were down here all the time, sneaking down here when we weren't supposed to be. I spent a whole lot of time here with my grandfather," Logsdon said as he sat petting his faithful companion, an American Border Collie named Patches.
Like Logsdon, two of his oldest children, John Evan, 10, and Lydea, seven, spend their summer days riding their favorite mules in the solitude of the rolling hills, drinking cool water from one of the 26 natural springs running through their property, making the same memories Logsdon holds so precious. His youngest son, Ian, not quite a year old, may not be riding on his own yet, but he can bray with the best of them.
Read more in the September issue of OKFR.