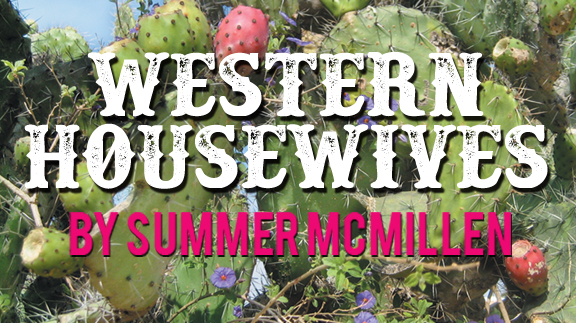 By Summer McMillen
Hi there, and welcome to "Western Housewives," a place where the ranch, the road and a cowboy family call home. My name is Summer McMillen, and I'll be your host for the next 15 minutes. So sit back, grab something loaded with caffeine and get ready to enjoy yourselves.
I was born in the Panhandle of Texas to a hard-working father and an equally hard-working mother. Daddy owned and operated a pre-conditioning feedlot, and my mama kept him in line.
All of us kids grew up working right alongside them. This is the reason I can see a sick calf from a mile away, and my blackberry cobbler is top-notch. Over many years and seasons, I have eventually found myself living in the beautiful, tree-filled and pond-rich state of Oklahoma. I emphasize "tree-filled" and "pond-rich" because growing up in Earth, Texas, we didn't even know what ponds and trees were until the fourth grade.
I am married to a ranchin' and rodeoin' man and we have a spicy little cowgirl who never gets far out of our sight. This brings me to the grand conclusion that yes, I am a ranch wife and proud to be one.
Read more in the September issue of OKFR.