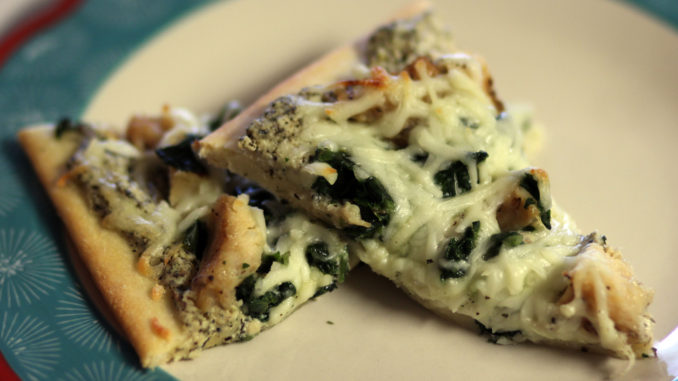 Spinach and Chicken White Pizza
Serves: 7-8
Time: 1 hour
Ingredients:
1 pound refrigerated pizza crust dough (Or make your own if you like)
24 medium cloves garlic (about 2 heads), separated, peel left on
1 tbsp + 2 tsp olive oil + more for working the crust
1 cup ricotta cheese
2 tbsp chopped fresh basil
1 tsp honey
1/2 tsp dried oregano
1/2 tsp kosher salt + more for sprinkling the garlic
1/4 tsp freshly ground black pepper
1 (10 oz.) bag frozen chopped spinach, thawed and squeezed to remove any excess moisture
2 cups shredded mozzarella cheese
1/2-pound grilled chicken breast (Omit to make this a vegetarian pizza)
Directions:
Preheat oven to 375 degrees. Lay out a large square of foil and place the garlic cloves on top (be sure to leave the peel on). Drizzle with 1 tbsp olive oil and sprinkle with a couple pinches of kosher salt. Fold the foil into a sealed packet and place in the oven. Roast the garlic until soft, golden and fragrant–about 25 minutes. Remove from oven and set aside to cool.
Once cool enough to handle, peel the cloves and discard the skins. Increase oven heat to 450 degrees to prepare it for baking the pizza. Add eight of the peeled garlic cloves to a small bowl. Smash with a fork. Add the ricotta, 2 tsp olive oil, basil, honey, oregano, 1/2 tsp kosher salt and pepper. Mix well.
If using chicken, prepare it and cut into chunks. Stretch the pizza crust onto a greased pan or pizza stone. Top the crust with tbsp-sized amounts of ricotta as evenly as possible. Scatter with spinach, chicken and remaining garlic. Finish with mozzarella cheese. Bake until crust is crisp and golden and cheese is melted and bubbling, around 20 minutes.