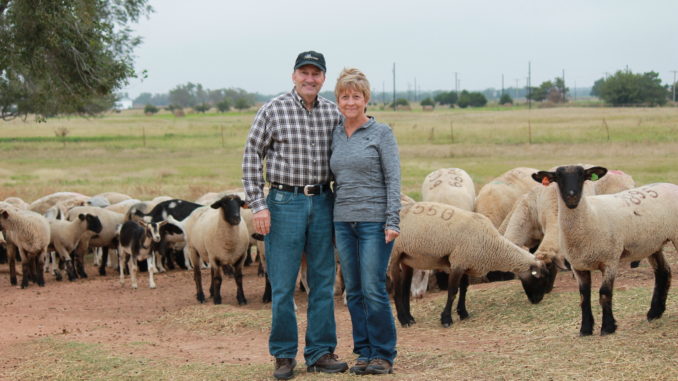 Trophies and awards line shelves of rooms, while win photos cover the walls. In the barn, sale posters showcasing former winners from some of the largest events in the country and state surround the feed rooms. Over the years, breeding and selling high-quality show lambs has become the norm for Brad and Deb Ott of Fairview, Okla.
But that hasn't always been the case.
In 1989, the Ott's oldest daughter Robyn was in 4-H. While Deb had grown up riding and training horses, Brad had a background in show cattle. "I think the original plan was for me to show cattle, but I was just a little girl. My sister Kami was two years younger than me, so we thought we better start with sheep instead of cattle," Robyn explained.
While new to showing lambs, the Otts knew what quality of livestock they wanted. Along with showing the Grand Champion Steer at the National Western Livestock Show in Denver, Colo., while in high school, Brad was also on the National Champion 4-H Livestock Team in high school, and the Northwestern Oklahoma State Livestock Judging Team his freshman and sophomore years of college and the Kansas State University Livestock Judging Team his junior and senior years in college.  Jhhh i
While Deb didn't have a background in livestock shows, she and her twin sister Diana grew up training horses.
"We had raised cattle and horses, but when we moved to Fairview we didn't have enough land at that time to raise them. We started with the lambs because of the kids," Deb said.
After several lamb sales where the ones they wanted to purchase went for more money than they were willing to spend, Brad and Deb decided that breeding their own lambs would be the best course of action.
At the time, an area agriculture education instructor was going out of the lamb business and sold the Otts 18 ewes. "They were nice ewes. They weren't great, but we put them with a very, very good buck," Deb said. The family took the first set of lambs to a local lamb sale, but didn't receive a single bid, and had to take the lambs home.
"We understood it was part of paying our dues," noted Deb. "Other breeders and buyers need to learn to be able to trust you and know your lambs are quality."
Brad and Deb knew they were on the right track, and while several of the lambs were nice, one was extra special. Not long after that first sale, Robyn made the premium sale at the Tulsa State Fair. "It took a while to get the program up and running," Robyn recalled. "But by the time I was in high school we were winning more than we were losing. It was very rewarding, especially knowing that we were doing it the right way. That's something my parents have always felt strongly about. If it was illegal, immoral, or unethical, we wouldn't do it, even though we're all very competitive."
Soon, Robyn, her little sister Kami, and eventually younger brother Cody were winning at all the major events.
Robyn amassed the Reserve Grand Champion Lamb at the NAILE in Louisville, Kentucky, and Grand Champion Lamb at the Oklahoma State Fair and had breed champions at the Tulsa State Fair and OYE.
Kami, also an accomplished showman, won the American Royal in 1998, and the following year, at 17 years old won the Reserve Grand Champion at the Oklahoma Youth Exposition and also the Grand Champion Lamb at the Northwest District Livestock Show.  Tragically, shortly after those wins Kami was killed in a car accident. Now, the OYE Reserve Grand Lamb Traveling Trophy and local FFA Kami Ott Leadership Award are given annually in her honor.
"By the time Cody was competing, we had our program figured out," Deb said. "He was also an excellent showman." With winning Grand Champion Lamb at The Tulsa State Fair, Grand Champion Lamb at the Oklahoma State Fair, Bronze Medallion Lamb at OYE and was the premier exhibitor at the Denver National Western Market Lamb Show, Cody also won the American Royal three times. One of those wins, in 2004, was even more special than others, because his cousin Travis Stroble won Reserve Grand – and both lambs were from the Ott's program!
"I was the youngest, so my sisters were kind of the guinea pigs, and were able to learn a lot about showing. By the time I came along we were rocking and rolling, and I was able to just hit the ground running," Cody said. "I'm so thankful to my sisters and my parents for that because I don't think I would have been able to do what I had done if it weren't for them."
Once Cody was done showing, the Otts had to decide: sell out or continue selling lambs. "It was a good business, and we loved it. It's hard to give up something you enjoy," Deb said. "I don't want to retire."
Brad added, "She's never going to give it up. I like it, but she loves it. If she's not doing something 24 hours a day, she's not happy. Staying active is a good way to enjoy life."
Learn more about Brad and Deb Ott in the November issue of Oklahoma Farm & Ranch.