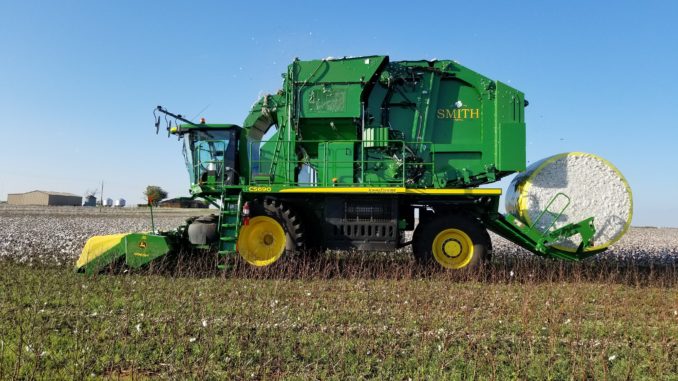 By Everett Brazile III
The fall season serves as harvest for several crops in Oklahoma, including cotton, soybeans, corn and grain sorghum, and many harvesters are out in the field to bring those crops to the elevators or gins. While the crops won't be planted until spring, it is not too early to look forward to the next season, as decisions made now can lead to a positive season in 2019.
"Now is the time of year when the leaves come off, and you get to see what (yield) you have, and you begin to reflect on all the management decisions you made and how they impacted the entire season," said Shane Osborne, Oklahoma Sales Agronomist for Americot/NexGen cottonseed. "Some of these variables you can control and some of these variables you cannot control."
One way producers can view important field information is through the use of onboard monitors in combines and cotton harvesters.
"Some of the best data for a producer is what he gathers on his own farm, whether he planted two varieties in the same field or different varieties in different fields," said Josh Bushong, Oklahoma State University (OSU) Northwest Area Agronomist, Enid. "Most farmers will have yield maps (equipment) on the combine where they can get the data, and they can send it out to a third party or look at the map to determine what they will grow."
Choosing a variety involves looking at the traits of different varieties, including the one just harvested, and whether it will fit the field or if newer, better traits are more desirable, such as how well it will perform at the start of the season."The last three years, specifically, have brought to our attention just how much value there is in a variety with a complete package. Without a doubt, yield and fiber are always on the list when you choose a variety, but the value of seeding vigor and disease resistance have really been highlighted," Osborne said.
Other factors to consider in variety selection include pest problems, such as insect or disease pressure, as many of those pests can reside in the field between seasons. Many grain sorghum varieties have a natural tolerance to the sugarcane aphid, which has been a problem for producers across Oklahoma and Texas for several years. Additionally, some cotton varieties have a tolerance or resistance to the Verticillium wilt disease.
Seed representatives can help the producers select the variety that has the most desirable traits.
"Most of our summer crops – cotton, soybeans, corn, grain sorghum – are all private industry, so talk to seed representatives on what performed well for two to three years," Bushong said. "Trying to get some yield data would be a good question to ask the seed representatives."OSU publishes fact sheets listing results from variety trials across the state, which can be accessed at www.oces.okstate.edu/extension-fact-sheets.
Learn more in the November issue of Oklahoma Farm & Ranch.