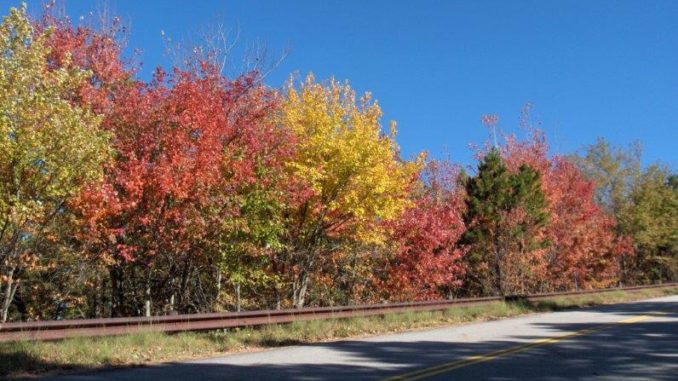 Some of the most gorgeous views in Oklahoma can be seen year-round along a 54 mile route in the southeast portion of the state. Rippling across gently rolling mountains, the Talimena National Scenic Byway showcases spectacular fall foliage. As Highway 1 winds through the Ouachita Mountain Range – one of the highest mountain ranges between the Appalachians and the Rockies – visitors are treated to one stunning view after another.
It's the only Oklahoma highway built specifically for scenic driving, and its name is derived from combining the two end points – Talihina, Okla., and Mena, Ark. Dedicated in 1970 by Lucy Johnson Nugent (former President Lyndon B. Johnson's daughter), the drive welcomes thousands of visitors each year. The roadway was designated as a National Forest Scenic Byway in 1989 and became an Arkansas State Scenic Byway in 1998. An Oklahoma State Scenic Byway designation followed in 2002, and the National Scenic Byway status was conferred in 2005.
The Talimena National Scenic Byway begins at the junction of Highway 271 and Highway 1 northeast of Talihina, Okla. Talihina Chamber of Commerce Director Vera Nelson advises travelers to stock up on essentials before heading out. "There are no service stations along the Byway, so make sure to have plenty of fuel, water, and snacks for your drive," she said. "The only place to get food on the drive is at Queen Wilhelmina Lodge on the Arkansas side."
Learn more in the November issue of Oklahoma Farm & Ranch.