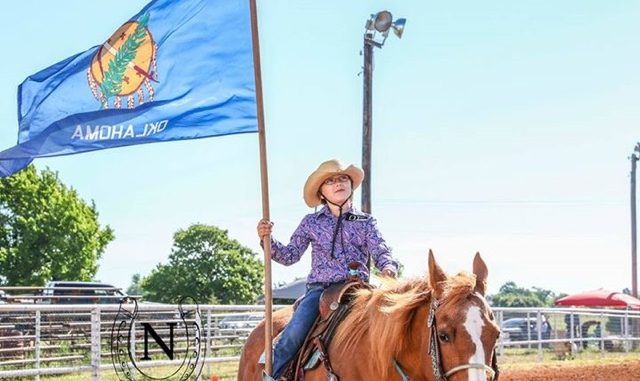 By Lanna Mills
Often when a horse is injured, its career as an athlete or work horse is over. However, for Indy that wasn't the case. Indy is a beautiful sorrel mare with a big blaze face that has spent the majority of her life as a barrel horse. She is owned by eight-year-old Dannah Buhrmester and her parents Jared and Jami of Sulphur, Okla.
About four years ago the Buhrmesters were looking for a step-up horse for Dannah. She had outgrown her pony and was looking for something more advanced. Family friend Deb Hallaman of Stratford, Okla., mentioned that she might have just what they were looking for. Deb was talking about an old mare that had once been her 1D barrel horse.
Deb had bought Indy when the horse was only four years old. She had traveled to Quebec, Canada, to see her and try her out, and wound up purchasing her from J.C. Daudeline. She was a great barrel horse for Deb for a few years until a freak accident left her injured. The mare had run into a pipe fence and crushed the right side of her nasal cavity. As horrifying as it sounds, Indy was able to recover, but after the incident Deb never raced her again. She was turned out to pasture to become a broodmare or occasionally be ridden by Deb's nieces. Indy had two nice colts that both became great barrel horses themselves and are still being used today.
Indy was about 22 years old when Dannah acquired her from Deb. She was bigger and more intimidating than the pony she was used to, but after a few days the two had became quite the pair. Indy proved that her days as a barrel horse were far from over. Dannah is a member of the National Barrel Horse Association (NBHA), South Central Youth Rodeo, and Miniature Rodeo Association and competes in open jackpots. With Indy under her, she has placed at several rodeos competing in barrel racing and pole bending. In 2016 she was reserve champion peewee barrel racer in the Miniature Rodeo Association and won a big silver buckle. Year-after-year, Dannah and Indy have continued to improve and add speed.
Read more about Dannah and Indy in the November issue of Oklahoma Farm & Ranch.