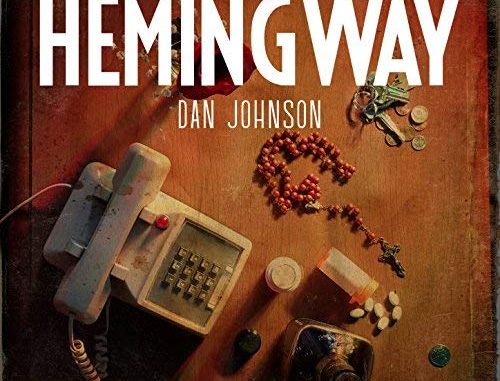 By Jan Sikes
Imagine you're a soldier returning home from Afghanistan or Syria or some other war-torn country. Maybe limbs are missing or your body is scarred in some other way. Or perhaps deep in the recesses of your mind, thoughts and emotions are twisted with guilt.
At what point do you decide you have nothing more to offer, and the world has nothing left to hold you?
It's a question that smoldered deep inside singer/songwriter Dan Johnson's mind as he struggled for decades to come to terms with his veteran father's suicide that occurred the day before he turned eleven. Like thousands of others then and now, Johnson's father returned home from war confused and in pain.
"My dad desperately needed someone to personally connect with him," Johnson said.
Through the songs and stories on Hemingway project, Johnson has found an avenue to provide that vital connection. And while it is too late for his father, he is confident it isn't too late for other veterans.
Johnson spoke candidly about the defining moment when he realized he had to step up and try to do something to help.
"It was a very specific moment for me," he said. "I was doing a show at Hoot's in Amarillo, Texas. The manager is a good friend, a Marine who came back with tremendous post-traumatic stress."
Johnson paused. "I asked him about his new Facebook profile picture, a bloody red number twenty-two. He said he was part of 'Twenty-Two Kill,' and explained it is an organization that tries to help reduce veteran suicides through raising awareness. Then he told me there is an average of twenty-two veteran suicides per day. That nailed me to the wall.
"I couldn't believe it. And while it seems extreme, I did the research and found it was accurate. A few days later, I had a thought. I play around two-hundred shows every year, and I have a microphone. If I ran into this guy in a bar (something tells me there's somebody in every single bar I'm in) who has either been affected by or is currently struggling with thoughts of suicide."
Johnson's story always leads back to his own father.
"I thought about my dad, because as much as the awareness is important, my dad didn't need public awareness," Johnson said. "He needed someone to connect on a personal level, someone to tell him that while suicide may end his pain, it will only amplify it for his loved ones for the rest of their lives."
That pain and long-lasting effects of his father's suicide gives Johnson first-hand experience when counseling someone who is on the verge of taking his or her own life. He uses those words he wishes someone had said to his father and finds it strikes a chord of truth.
Exactly how was the Hemingway project born?
Johnson has been a huge fan of the writer Ernest Hemingway his entire life, so he visited Hemingway's home in Key West, Fla. As the tour guide took the group through the house, Johnson lingered behind in Hemingway's study where so many of the classic stories were written.
"His study is still identical to the way he left it with his typewriter and bourbon bottle. It was literally like he could walk back in at any moment," Johnson said. "I stood there soaking up all the creativity that flowed through that room. It hit me hard how many people, like Hemingway, reach a point where they feel as if they don't have enough left to give, and the world doesn't have enough reasons for them to stay in it. And of course, then I thought of my father and how he took the Hemingway out. So, I wrote a big chunk of the song, 'Hemingway,' standing in Ernest Hemingway's study."
However, Johnson did nothing except play the song for some friends. While they were blown away by the powerful words, he still didn't know what to do with it.
"After the night in Amarillo, everything shifted," Johnson said. "I decided that I wanted to sing the "Hemingway" song in the middle of every show and use it to tell my dad's story. So, that's what I started doing."
The results have been phenomenal.
The rest of the Hemingway project came together at a bar in Ireland where Johnson was doing a show. Following his performance, an American soldier approached and asked to buy him a drink. Then, the soldier, with tears in his eyes, told him that his words that night may have just saved his life. He described the isolation and pain he experienced each time he returned home on leave. Because of that, he was hiding out in Ireland on leave and staying drunk. He admitted to Johnson he'd about reached the end of his will to stay alive. That was until he listened to "Hemingway" and heard Johnson's story about his dad.
Every song on Hemingway is deep and character-driven. Johnson brings the stories to life in each line, each lyric, each aching note.
The musical journey starts with "The Favor." Haunting strands from a slide guitar set the mood. It is a dark story about newlyweds accosted in a Louisiana swamp by men intent on inflicting evil and harm. But, as the tables turn, Billy says these words to his new bride, "Babe, when the devil owes you a favor, you damn sure don't ask why…."
The title song, "Hemingway," is more than moving. It holds the power of a freight train loaded with TNT. It is everything all rolled up into one, with unforgettable lyrics.
Johnson's strong baritone voice lends itself to the force of the song and pushes the message across. This story has a tragic, heartbreaking, too-human ending.
"Bloom," tells of a young woman trying to find her wings. "Tom Waits For No One," is the sad and lonely tale of a man waiting fruitlessly for his lover to return. Chilling and raw, "The Lone Gunman's Lament," is a story all-too-familiar for the many who have been forced to kill.
While there are various organizations who provide help to veterans in need, Johnson is taking the Hemingway project to the streets, to those too broken or ashamed to seek help. He is making those one-on-one connections that are vital in suicide prevention. Hemingway is an education, motivation, and intervention all rolled into one powerful campaign. Johnson dares to expose the naked, raw and sometimes ugly truth through words and music.
When Johnson teamed up with Texas novelist Travis Erwin to create short stories that accompany each song, it took the Hemingway project into a much broader spectrum. With a writing style much like Johnson's, Erwin weaves stories together in an intricate web of multi-dimensional characters and situations that are masterfully intertwined.
From graphic violence to exquisitely tender moments, Hemingway is a journey that touches everyone in some way. No one is spared.
For more information about the project, the non-profit and Dan Johnson, visit http://www.operationhemingway.org.
Hemingway Lyrics
John was a soldier from deep down in Florida
He turned eighteen on Key West
The Army would get him as soon as they'd let him
He signed on the line to enlist
They all called him Hemingway
Because he spent every day
Cussing and fighting and drunk
And, lord he could tell you a story so well
You'd get wrapped in the yarns that he spun
So, Hemingway, tell us a tale
Of some great adventure
Or champions or fisherman
Or girls that put wind in men's sails
Take us away
Hey, Hemingway
On the day that he turned nineteen
That cursed IED took off his legs at the thigh
Mangled and burned up
But thankful it turned out
The doctors at least saved one eye
Then they sent him home to his mom on the coast
They said, "Thanks for your service there, son.
This purple heart is a medal to mark
All the good for your country you've done."
Through his personal hell
Not a soul would he tell
Too modest to speak of his pain
While innocent, ignorant well-meaning friends of his
Said it would all be okay
So, he just kept on swinging
As each blow kept stinging
Not sure how much longer he'd fight
And everyone asked him to tell them what happened
The day he almost lost his life
So, Hemingway, tell us a tale
Of some great adventure
The battles, the missions
The glory in how you prevailed
What do you say?
Hey, Hemingway
Last Saturday night as the vacancy sign
Beckoned to him from the road
With a bottle of bourbon
And a month's worth of Percocet
Tucked in his camouflage coat
He reached for the Bible
And read for a while but nothing much seemed to stand out
So, in that little hotel room
When the Gideons fell through
He took the Hemingway out
Hemingway, tell us a tale
Of the young life they took from you
The darkness you're going through
How we and the whole world have failed
There as you lay,
Hey, Hemingway