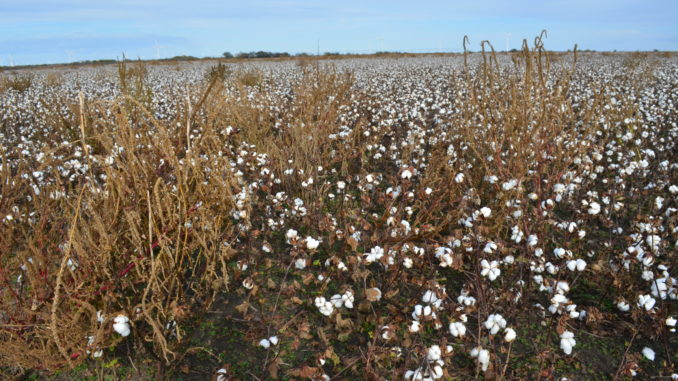 By Everett Brazil III
Herbicide resistance in weeds has become a major issue for producers across the United States, as they are increasingly seeing weeds growing long after the fields have been sprayed. Companies such as Monsanto and Dow AgroSciences have worked to combat herbicide resistance by stacking resistant traits for herbicides, but while herbicide resistance will remain a problem for many years, there are steps growers can take to reduce the problem and have clean fields at planting and even harvest.
Numerous weeds have been identified as exhibiting resistance across the state including mare's tail, palmer amaranth, also known as pigweed or careless weed, as well as ryegrass, tall water hemp and kocia. There are also several weed species that may start exhibiting resistance in a few years as well.
"The one we have concerns about that is on the horizon, that we don't have confirmed yet, is Johnsongrass," said Todd Baughman, Oklahoma State University (OSU) IAB Weed Science Support Program leader, Ardmore, Okla.
Wayne Foster is the Agronomy Retail Manager for Two Rivers Co-op, Newkirk, Okla. He spends countless hours spraying area fields and has seen first-hand many resistant weeds in northern Oklahoma.
"We have probably 100 percent of our fields having one kind of resistance or another to one or more herbicides," he said.
Foster referenced that there is resistance to the glyphosate chemistry, as well as Banvel and the ALS and atrazine chemistries.
"We're starting to see mare's tail, pigweed (exhibiting resistance)," he said. "In our wheat, we're starting to see henbit, Japanese brome and cheat. We're also seeing bushy wallflower."
While herbicide resistance has unfortunately taken hold in recent years, it is actually a problem dating back many decades, including with an herbicide used today by producers across the country.
"It was in the 1950s when dandelions and wild carrots were reported to be resistant to 2,4-D," Foster said.
Learn more in the December issue of Oklahoma Farm & Ranch.