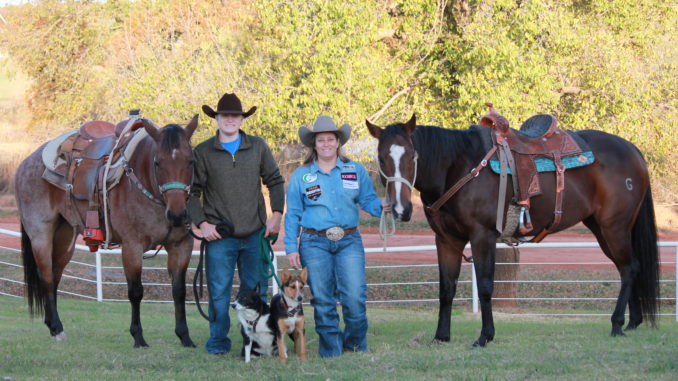 On the eve of her first Wrangler National Finals Rodeo appearance, Tracy Nowlin feels relief. The accomplishment, although major, was tough to earn and a long time coming. She won numerous large rodeos earning over $90,000 in fewer than 80 events, finishing twelfth in the World Standings. More impressive is that she did it all on one very special horse.
A Rodeo Upbringing
Nowlin grew up as part of one of Oklahoma's most familiar rodeo families. Her father, Terry Postrach Sr., was a well-known calf roper, and her brother, Terry Postrach Jr., was a three-time International Professional Rodeo Association World Champion calf roper. Her mother, although not a competitor herself, might as well have a gold buckle for all the cowboys and cowgirls she helped haul to world championships. Tracy's son Ty, an 18-year-old high school senior, is an accomplished calf roper.
Tracy herself has made the International Finals Rodeo in Oklahoma City 14 times, closing in on the record of 16 held by fellow Oklahoma barrel racer Betty Roper.
It's not surprising Nowlin grew up to be a cowgirl, although her unwavering love of rodeo might be. "Growing up we roped until midnight and never knew anything else. I never was a normal kid. I got up in the morning and saddled my horse. They never had to tell me to ride, but they'd have to tell me that was enough and that it was time to do school work or go to bed," she recalled.
With two ropers in the family, Nowlin spent many hours working chutes and traveling to ropings. "We roped until midnight and never knew anything else. There are eight years between my brother and me, and he was my best friend until he went off to college. We did everything together," she explained.
Although roping was a major part of her life, the young cowgirl managed to qualify for her first IFR at only 13 years old with a horse named Goose. She qualified for the finals three more times on Goose, who made his final trip to OKC at over 20 years old.
She went to the IFR three times on a gelding named Rambo, who did double-duty as her brother Terry's tie-down horse. Her other mount was a mare named Dusty Rose, who went to the IFR six times.
Nowlin's life could have taken a vastly different course. After high school, Tracy received a scholarship for art school. While tempting, the desire to rodeo was stronger. "I had a really nice barrel horse when I graduated, and I could have gone to Santa Fe for art school. I did Indian art, and I really wanted to do sculpture, but I didn't. I regret not going some, but my first love was rodeoing. It always has been. I never wanted to do anything but be on a horse. My first real word was horse," Nowlin explained.
They mother of a friend of hers taught her how to peyote, a bead-weaving technique. "I've beaded all my life. That's how I survived; by making stuff when I didn't have a barrel horse," she said. Nowlin, a professional beader, still keeps busy in down time by beading for tack and other accessories. Although a retailer does sell her creations, many people buy directly from her.
A Special Horse
It was during one of those barrel horse-less times four years ago that a non-descript bay mare came into her life. At the time, Nowlin was looking for a new tie-down horse for her son Ty and found an 8-year-old mare on a Facebook Buy or Sale group. She was owned by a man named Shawn Howell from Welch, Okla., who was a fiddle player in the Texas Playboys.
The ad noted that the mare, listed for sale at $1,850, had been roped off of and had seen the barrels, so she looked like a possible match. "I was scared he was going to sell her before we were able to pick her up. He didn't have any calves to rope, so he let us take her home to try," Nowlin recalled. "She'd been turned out for three or four years in the pasture and hadn't been rode much."
When they tried her on cattle, it was apparent that the little mare wouldn't work. Knowing she had seen the barrels, Nowlin spent some time riding her that day, but didn't feel like she'd fit. "I was ready to send her back, but that night I couldn't sleep. I had that gnawing feeling like you get when you know you're about to make a big mistake," she said. "I told God that, if he'd just let me go to sleep, I'd give her another try in the morning."
When she rode the mare the next day, she was impressed that she'd retained what she'd been taught the night before. "I was trying every way to talk myself out of buying her because I really liked her, and I needed a barrel horse, but the momma in me said Ty needed a calf horse more than I needed her. God had a different plan though," Nowlin said.
The mare, registered as DJG Maddison, reminded Nowlin of another horse she'd owned. "My mom asked me why I wanted her so bad, and I told her that she's the only horse I've been on that is as quick-footed as the roan horse I had."
Nowlin bought "Dolly Jo" at the end of October in 2014. After approximately a month of riding, she decided to take the mare to a race. "It was right before Christmas. I was doing a lot of bead-working at the time making a living and had gotten all my Christmas orders out, and decided I'd go to the barrel race and exhibition her," Nowlin said. Exhibitions are used to get barrel horses experience away from home. The runs, while timed, are not eligible to win money.
Nowlin had planned to exhibition the mare three times that night, but after the mare worked so well the first time, she decided that was enough. The next week, she decided to enter the actual class. "We won the 2D the next week, and she didn't go half as fast as we'd been going. It was only four or five weeks later that she started winning the 1D," Nowlin said.
That meteoric rise to the top continued. At their first rodeo, the pair was just one or two spots out of placing. One of the next rodeos was Duncan, Okla., and after seeing the contestant roster, Nowlin began to have some doubts. "I came back to the truck and mom asked what was wrong. I told her I was worried we might have stepped off a little deep this time, because everyone who was good was entered. She told me not to lose my faith now," Nowlin said. She and Dolly Jo wound up placing in the rodeo, just hundredths of a second off the reigning World Champion.
"After that, I knew she was something special, but I thought she'd just be a little pen horse because of her size. I thought I could go run her at jackpots until I got another horse ready, but it's not how it worked out," Nowlin said.
Read more about Tracy and Dolly Jo in the December issue of Oklahoma Farm & Ranch.