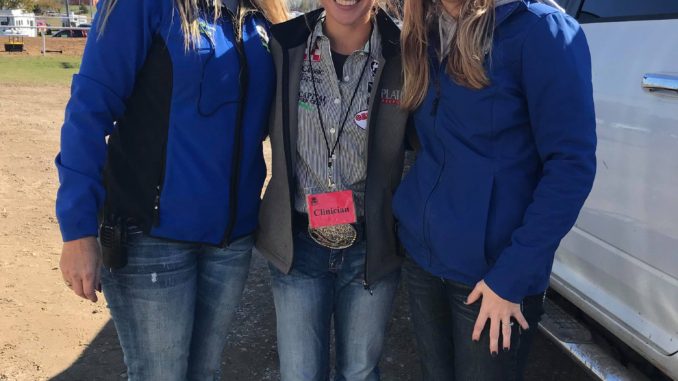 A bevy of cowboys, cowgirls and other participants converged on the northeast Oklahoma town of Pawhuska Oct. 29 through Nov. 4 for the Saddle Up For Christ Rodeo Clinic, held at the Osage County Fairgrounds. This year the event welcomed thousands of participants, including those from Michigan, Washington, and Florida. The roster of clinicians read like a who's-who of top rodeo contestants, including many National Finals Rodeo Qualifiers and World Champions.
Four years ago, Saddle Up For Christ was just an idea of Drumright, Oklahoma, cowgirl Shelly Weaver. Weaver, a professional barrel racer, was in prayer one morning when inspiration hit. "Literally the Lord put it on my heart to do it. I felt strongly about it, and I knew it was what he had directed me to do and that it was the calling God had placed on my life," Weaver recalled.
Her vision? A ministry geared toward the rodeo lifestyle, open to everyone and free to attend.
The first event was for barrel racing, so Weaver began calling her barrel racing friends and asking for help. "I though it could help our industry and benefit people who do not have the opportunity to train with people of that level, and wanted everyone to have that opportunity," she said.
Her vision inspired others. "Everyone came on board. The support from the barrel racing industry has been amazing," she said.
Since its inception, Saddle Up For Christ has had events in Texas, Colorado, Indiana, Louisiana, Australia and Pawhuska, Okla. "Each year we try to do clinics in new areas so that everyone gets an opportunity to come to one. The only one we ever keep in the same location is Pawhuska," Weaver explained.
Each year the number of volunteers, clinicians, and participants has grown. The first event had approximately 500 participants, but last year's Pawhuska event had more than 4,800 sign ups.
While SUFC was Weaver's idea, she's adamant that an organization this large, with events of this size, would not be possible without a dedicated group of people. "We have Tana Poppino, Susie Guthrie, Diana Collins, Pam Weatherby, Kayla Guthrie and Mike Guthrie on our board of directors," Weaver said. "There are over 50 volunteers who come to help. We're thankful for everyone because it truly takes an army to put on of these clinics."
The first clinic was strictly for barrel racing and was spectator only. With each year that passes, the SUFC Board of Directors works to change and evolve, regularly trying new things. This year at Pawhuska, riding spots were included in all events, as well as a Kids Rodeo Camp for ages seven-12. Also, at Pawhuska a seminar tent was set up for other professionals to speak so people could learn from other people outside the arena. "For example, Ty Hillman spoke about mental toughness, Purina was there for feed nutrition and EquiResp talked about lung care," Weaver said.