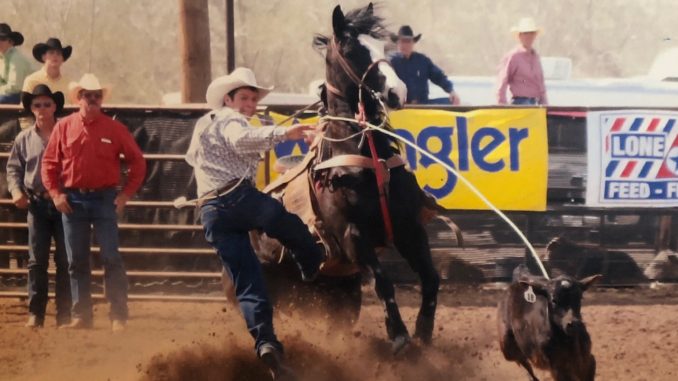 By Ddee Haynes
We all have that one friend, the friend that everyone knows. It does not seem to matter where you travel with that friend, at least one person will either know them personally, have meet them previously or know their reputation. For some reason that person makes and leaves an unforgettable impression.
Well, we have that horse that everyone knows, and her name is Magic. Magic is a 20-year-old, plus or minus, mare. She is not registered so her true age can only be assumed based on previous owners.
Magic came to be our girl about four years ago. My youngest daughter, Hattie, needed another break-away roping horse and a horse she could also use for goat tying. As most rodeo families do when looking for a horse, "you put the word out." In other words, you let it be known to other rodeo families you are looking for a horse. A few weeks after making it known we were looking for a horse, I received a phone call from a family friend, Dusta Kimzey. Many of you may remember Dusta and her family from one of my previous articles, titled "Tricked-out." Dusta and her family are from Strong City, Okla. Dusta told me about Magic and suggested we take a look at her. It so happened that same evening we were headed to a goat tying jackpot in Weatherford, Okla. Luck was on our side because another rodeo family friend of ours, Kara Bottom, who lived just a few miles from the Kimzey family, was going to bring her two daughters to the jackpot. Kara said she had an open spot in her trailer and would be happy to haul Magic to Weatherford.
That night at the goat tying jackpot, after making a couple of runs on her current horse, my daughter climbed onto Magic and made a run. It was a disaster. Magic veered to the right of the goat and didn't seem to want to stop. After the jackpot Dusta worked with Hattie and Magic and the threesome figured some things out. The next several practice runs, although not perfect, were much better.
I am not sure when the first "Hey! I know that horse; that's Magic" was heard, but it seemed no matter where we traveled either in the state of Oklahoma or another state, someone always knew Magic. Either that person had roped on her, tied goats on her, had ridden her or just knew her from either the Kimzey family or her previous owners before the Kimzey family. Prior to becoming part of our family, Magic had been hauled up and down the road to many high school, college and professional rodeos, and she had become the "go-to" horse for anyone and everyone who either had a hurt horse, entered at the last minute with no horse to ride, or just wanted to rope or tie off another horse.
Read more in the December issue of Oklahoma Farm & Ranch.