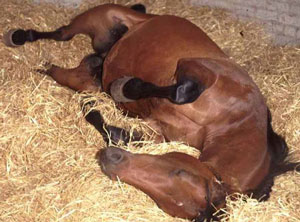 By Garrett Metcalf, DVM
The horse's gastrointestinal tract has been plaguing owners and veterinarians for centuries, causing long nights of endless worrying, fear and financial strain. The gastrointestinal tract is far from perfect in horses, but we have come to understand it much greater in the past few decades, leading us to be able to treat and prevent colic with much greater success. There are many causes of colic in horses with some avoidable and some that are not. Colic is a very broad overarching term that simply indicates abdominal pain and is not a diagnosis but rather a symptom. This article will discuss the key aspects of colic in horses, treatment methodologies and ways to avoid colic.
Prevalence of Colic
If you are a horse owner and haven't experienced colic before, consider yourself very blessed. There will be a time when just about every horse owner will have a horse colic. According to data from the USDA, the incidence of colic published in 2001 was 4.2 events/100 horses per year. In previous studies, the findings ranged from 3.5-26 colics/100 horses per year. The incidence of fatalities from colic was 11 percent, and the overall percentage of horses that required surgery was only 1.4 percent. Demographics play a role in the types of colic that horses experience. A short list of these factors is types of hay available, weather patterns and breeds in the area that affect the types of colic seen in a given region.  Gender and use of horse is not a factor for colic, but horse breed is a factor and certain breeds have higher previous of certain causes of colic. The key point to remember is that the majority of colics respond to medical treatment that is usually provided by owner's primary care veterinarian, but there are a low number of horses that surgery is required to correct the cause of the colic.
Read more in the December issue of Oklahoma Farm & Ranch.