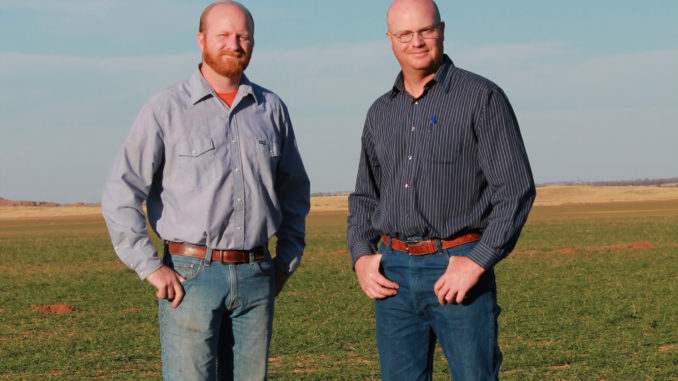 They seem as comfortable in suits and ties as they are in worn out jeans and work boots. Brent and Ryan Howard do double-duty as lawyers and farmers, putting in long hours at their respective law offices in addition to working on the family farm. In November 2018 Brent added another line to his resume, as he was recently elected to represent District 38 in the Oklahoma State Senate.
The brothers grew up east of the small southwestern Oklahoma town of Friendship – an outcropping of Altus. Along with their father Bob, growing up the boys spent countless hours on the farm. "It's a mid-size farm for the area. We have cattle and wheat," noted Brent. The family still farms the same farmland on the same ground homesteaded by their great grandfather Warren before Oklahoma even became a state more than a century ago.
Their parents, Bob and Renee, had three children, as Brent and Ryan's older sister, Chrystle, is also a lawyer in Enid, Okla. "Mom made sure we all three got higher education. She wanted to make sure we were prepared to do whatever we wanted to do in life," Ryan recalled. "She had a huge fear of public speaking, so she made us enter whatever speech contest there was for 4-H, soil conservation, church, whatever. Dad loved music, so he pushed us to take piano lessons, so we had to do recitals for piano teachers, 4-H, church, and they both made sure we were involved in the community."
Renee was, as Ryan put it, "the glue that holds everyone together. She had to deal with two farm boys and a farm husband. We didn't want to be in the house. We wanted to be out doing something, and if we had idle time, we'd try to invent something. She had to keep us in line. She makes sure we come together for Sunday dinner, holidays, and makes sure we stay in touch and remember where we came from."
There's no denying where the Howards learned their work ethic. "Dad is all about the grandkids now. He'll drop whatever he's working on to spend time with them, but we grew up knowing that if we had daylight or time, we should be working and getting a task done. He instilled hard work in everyone. He wanted to have fun, but it was hard for him to take time away from the farm. That was his passion – farming and ranching," Ryan said. "Luckily, Momma would make him take time to go to the lake and go skiing and whatnot. She made sure there was a good work and life balance."
All three kids attended rural Navajo High School, were involved in sports, student council, and were all president of their high school graduating classes. All three also hold the distinction of being in the Jackson County 4-H Hall of Fame. "We played basketball. We couldn't play baseball because in the fall you're planting wheat, and in the spring you're taking cows off the pasture to sell," Ryan explained with a laugh.
Carrying on the family tradition, all three Howard children attended Oklahoma State University in Stillwater, Okla., for their undergraduate degrees. Ryan earned his degree in Animal Science, while Brent double-majored in Ag Econ and Accounting. "We've just been indoctrinated in it from the time we were kids. My dad, uncle, and my dad's parents all went there, and that's where all of us grandkids and cousins went," Brent said.
Ryan met his wife Erin while at Oklahoma State, something he noted his grandparents Sam and Harriette Howard also did. "They met there when it was Oklahoma A & M. Going to Oklahoma State is just in the family," he said.
How did a couple of farm kids from southwest Oklahoma decide on law school? "A lot of it was because our mom was a legal secretary for about 30 years. Whenever the three of us would get out of school on Tuesdays and Thursdays, we would come into town for piano lessons, and then after lessons we would go to Mom's office," Brent said. "We would spend the rest of the evenings there with her until she got off work. We saw the lawyers she worked with were good people and good attorneys, and that they were able to make a good living and buy farm land."
Ryan elaborated, noting, "They were living pretty good. We would see our dad working hard every day. Not struggling, but definitely working hard sun up to sun down to earn what he had. He told us that farming is a lot more enjoyable if you don't have to rely on it for paying your bills. When dad was the County Commissioner, we got to know the Assistant District Attorneys, and we thought they had it pretty good. All the attorneys we knew were good people, but they weren't struggling by any means. Daddy saw that and pushed us."
Learn more about Brent and Ryan in the January issue of Oklahoma Farm & Ranch magazine.