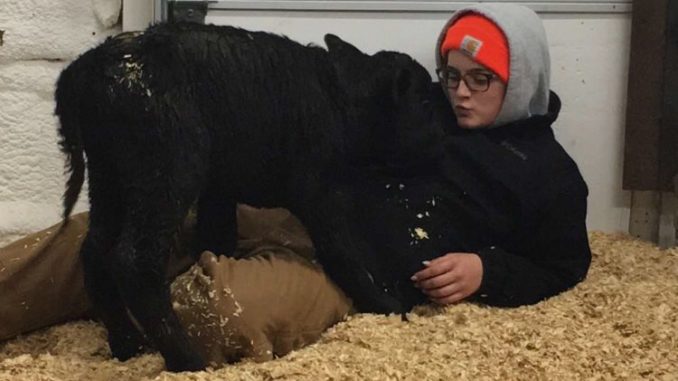 By Shadi Nettles
Hello Oklahoma Farm and Ranch community. My name is Shadi Nettles and I am currently serving the Oklahoma FFA Association as the 2018-2019 Northwest Area Vice President. This fall, I left my home in Alva to pursue an Agricultural Communications degree at Oklahoma State University. My passion for the agricultural industry truly began my eighth-grade year when I received my first FFA jacket. As a new member of the Alva FFA chapter, many doors were opened for me. I began showing market goats and barrows, competing in the Creed Speaking contest and the Agronomy and Floriculture Career Development Events. While I thoroughly enjoyed each of these experiences, my fondest memories made in the FFA came when I began my Supervised Agricultural Experience (SAE).
My SAE fell into the category of Beef Production Placement. I was employed by several ranchers in my area to calve out more than 250 head of heifers. Over the span of several months, I checked heifers at 11:00 p.m. and 3:00 a.m. Each night I geared up in my coveralls, gloves, and muck boots, and set out for all five herds. I carried a notebook with me where I kept a record of each heifer's pregnancy. If her bag was dropping, if she was away from the herd or had any discharge, I noted her ear tag and checked her first the following shift. I finished my employment with a four percent calf loss and one heifer loss due to prolapse.
I have to thank my dad, Stormy Nettles, for his support in this experience. He allowed me to use his pickup and diesel, answered any questions I had, and never hesitated to come help me pull a calf at any time of the night. I learned so many valuable lessons throughout this journey, not only about the bovine species, but also about organization, business, and most importantly, I developed character.
I will never forget the first dead calf I found. It was a cold December night when I noticed one of the heifers was pacing and bellowing loudly along the fence line. As I approached her, I checked my trusty notebook, hoping to find her ear tag number. I flipped through the pages and found nothing. This heifer was not due for a couple more weeks. My heart sank as I scanned the perimeter of the field with my spotlight. There, against a frozen fencepost, lay a lifeless ball of black fur. Cautiously, I stepped out of my pickup and coaxed the cow as I walked to her calf. I picked up his limp body and laid him on the flatbed. As I drove away from the confused new mother that night, tears streamed down my cheeks. I remember praying that the next few months would be filled with as few of these outcomes as possible.
When I reflect on that night, I cannot help but think about one of my favorite lines from the FFA Creed. "For I know the joys and discomforts of agricultural life and hold an inborn fondness for those associations which, even in hours of discouragement, I cannot deny." That night was definitely one of those discomforts that comes along with our way of life, and it was one of my first hours of discouragement as a young agriculturalist. Although it was difficult, the takeaway for me was monumental. It made me stop and appreciate the animals that God places on Earth for us as producers to turn into food. It made me more appreciative of the miracle that is pregnancy and birth. And lastly, that night was a character-building moment.
Read more from Shadi in the January issue of Oklahoma Farm & Ranch magazine.