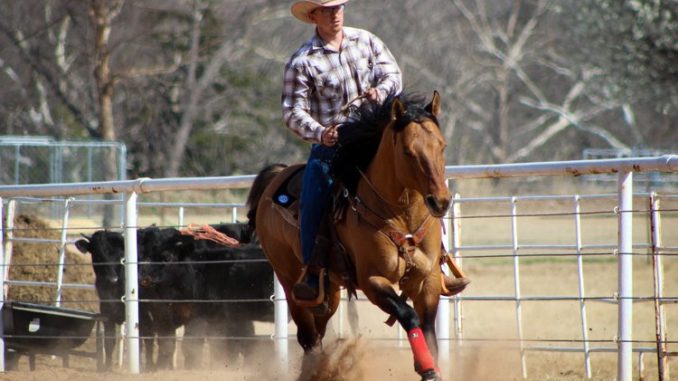 Who doesn't love a true underdog story? There is just something special about starting at the bottom and working ever so hard to reach the top. For Mitch and Misti Quiring, that is exactly what they and their horse, Sheriff of Blackburn, have done.

Mitch and Misti are an ambitious young couple with big dreams for their future. The two dreamed of owning their own ranch, having a proven stallion, having a nice herd of broodmares and competing together in the AQHA and rodeos across the country. In 2010 the opportunity arose to work for one of the top breeding farms in the barrel horse industry and they jumped on it. They moved from Minnesota to Oklahoma for the job. Mitch had experience training and starting young horses but dreamed of one day becoming a calf roper.

A couple years later an advertisement posted online by Lindgren Show Horses caught Misti's eye. The ad was for a red dun mare named Emmy Poco Blackburn. The mare was in foal to Duns of Impact. After researching the mare Misti concluded that the mare had the potential to produce great barrel horse prospects if bred to some of Oklahoma's great speed bred stallions. After discussing and pleading with Mitch, the two agreed that Misti could get the broodmare if Mitch could have the foal she was carrying. Arrangements were made, and two weeks after the mare foaled a beautiful, strong dun colt named Sheriff of Blackburn. The two were loaded on a trailer and sent south to Mitch and Misti's home in Roff, Okla.
Despite the colt's pedigree and the dam and sire both being world champions, they had not planned on keeping Sheriff a stallion. However, God had other plans. The colt grew into a beautiful young colt, but beauty wasn't his only quality. Throughout the beginning of his training, he proved to be an outstanding horse.

In 2014 Mitch and Misti moved to Perkins so that Misti could pursue a Master's Degree at Oklahoma State University. They found a place to lease that gave them more access to an arena and roping events. Sheriff was a two-year-old and was started as a head horse. Mitch and Sheriff learned the ropes together, and when Sheriff was a three-year-old he and Mitch won their first paycheck together with Billy Etbaur on the heel side. However, Mitch still held on to his dream of becoming a calf roper.
Learn more about Sheriff Of Blackburn in the January issue of Oklahoma Farm & Ranch magazine.