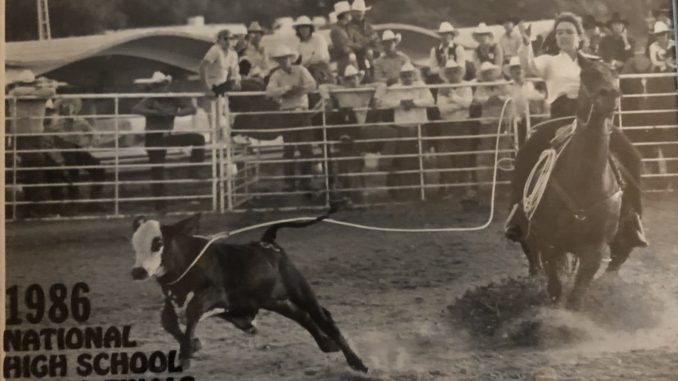 By Ddee Haynes
"Life ain't always easy but it's a beautiful ride!" One of my favorite bracelets has this exact quote inscribed on it. A few weeks ago, as I was digging through my jewelry drawer, I ran across my bracelet. As I held it in my hands, re-reading it for maybe the thousandth time, my mind immediately thought of my friend Jackie Price.
I'm not sure when or where it was the first time I met Jackie, but I am almost positive the location involved horses and kids. Some people come into your life and you cannot ever remember a time when they were not in your life or imagine the rest of your life without them. Jackie Price is that kind of person. Jackie is caring, loving, supportive, strong, positive, stubborn, competitive and a lover of life. Jackie is a daughter, sister, aunt, friend, true cowgirl and most of all a mom to seven kids. Yes, you read that right, seven!
To set the record straight, the original four, Erin 29, Elli 25, Ethan 22 and the youngest Ean 20, are her birth children. The "little boys" as Jackie calls them, are Tyler 11, Jake 10 and Bailey 9. The little boys were not planned, sought out or even a faint thought in the Price family. That is until Erin, who had become acquainted with the boys' biological mom, learned the mom and boys needed help. Erin approached Jackie about the need for a safe place the three boys could stay for a short time. What was supposed to be only a few days of the young brothers staying with the Price family turned into so much more.
Elli recalls the day the boys first came to be a part of their family. It was the week after Thanksgiving. Elli, Ethan, Ean and Jackie had spent the previous week on the rodeo trail. They had traveled to Ardmore, Okla., to compete in the World Junior Team Roping and then onto Duncan, Okla., for the Rising Stars roping. Elli laughs and recalls how simple things were then compared to the chaos that was soon to come! The little boys at that time were only four, three, and 18 months old.
In true Jackie fashion, she and the rest of the family opened their doors and hearts to the three brothers. As the days, weeks and months progressed, it was evident the little boys needed the love and guidance of Jackie and her crew. It was also obvious the family was falling in love with the little boys. One thing led to another, and on Aug. 13, 2013, two years after the brothers had come to live with Jackie and her family, the adoption was legalized.
Jackie's first passion in life was rodeo. In high school Jackie and her sister Monica, who is a pretty good hand as well with a horse, qualified several times for the National High School Rodeo Association finals. One year Jackie qualified for the NHSRA finals in break-away roping, goat tying, barrel racing and girls cutting. On the second run in the goat tying Jackie hurt her knee. With her knee wrapped and taped, Jackie went on to finish the finals in true-cowgirl fashion. She not only ended up capturing the Breakaway Champion title, but also took home the Reserve All-Around Cowgirl title. After high school Jackie continued to compete in open rodeos on the college level, qualifying several times for the National Collegiate Rodeo Finals.
Jackie's love of horses and talent in the rodeo arena has been inherited by her older children
Erin, Elli, Ethan and Ean. All four begun their rodeo careers starting first at the junior rodeo level then proceeding all the way up to the collegiate level. Ethan and Ean still are still competing in college while entering professional rodeos, open rodeos and roping events.
Read more about Jackie Price in the February issue of Oklahoma Farm & Ranch.