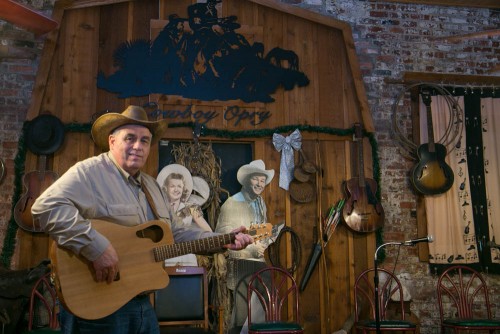 By Jan Sikes
Located in the Southwestern part of Oklahoma, Comanche sits between Lawton and Ardmore, not far from the Texas Border and boasts a population of around 1,500.
By any measurement, that is a small town. But what you'll find in the form of entertainment in the back of a music store, at the corner of Main and Rodeo, is anything but small.
Allen Wooten, owner and proprietor of the Cowboy Opry and Music Store, got tired of working for Halliburton in 2005 and wanted to do something more enjoyable with his life. He decided to open a business in his hometown.
Since he'd played guitar all his life, it seemed a natural progression that whatever he did would involve music.
"The building I bought was larger than what I needed as a music store. I carry mostly stringed instruments and have quite a collection I've gathered over the years," Wooten said. "Then I got the idea to start having a jam session each week in the back. It was just a place where me and other musicians could get together and play. And, before I knew it, more and more people started to show up to play and to listen."
The "build it and they come" theory could not be more apropos.
Wooten explained, "I built a stage, made some other improvements to the back area, decorated it with western décor, and called it The Cowboy Opry. I began to get the picture of a place where you can step back in time, relax and hear genuine music. Sort of the Bluebird Café of Southwestern Oklahoma."
Wooten added, "On the average, we get anywhere from fifty to sixty people every Thursday night. It's an open-mic setting and players just show up. They don't have to sign up ahead of time."
As the Cowboy Opry progressed and grew, Wooten started providing food for everyone who showed up.
"I usually provide the main course," Wooten said. "Then others bring sides and desserts. For instance, this Thursday night, we're having tamales, but it's different each week."
Wooten provides the perfect opportunity for people in the community to come together and enjoy a relaxed atmosphere of music, food and fellowship.
Read more about the Cowboy Opry in the February issue of Oklahoma Farm & Ranch.