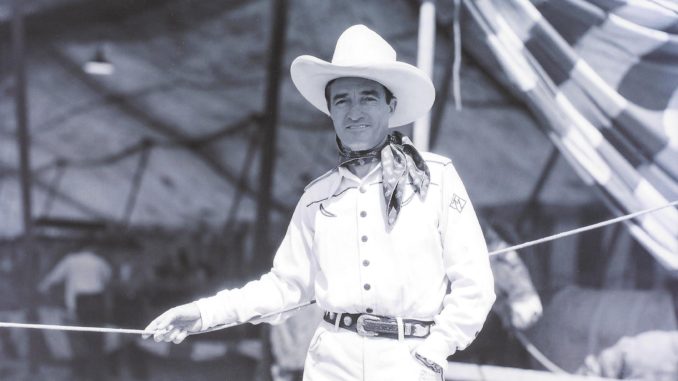 Hollywood's first western movie star once made his home in the northeast Oklahoma town of Dewey. Tom Mix was born in 1880 in Mix Run, Pennsylvania. His father, a stablemaster for a lumber merchant, taught him to ride horses, and Tom eventually spent time working on a local farm. The story is told that he always dreamed of being a performer, specifically in the circus.
In 1898, Mix enlisted in the Army during the Spanish-American War, but failed to return to duty after marrying his first wife in 1902. He was listed as AWOL that year, but never court-martialed or even discharged. His first marriage was swiftly annulled, and he married his second wife in 1905, but that marriage also ended quickly.
There are many stories about Mix's life and career. It's rumored that Mix was one of President Theodore Roosevelt's Rough Riders. In actuality, Mix only rode in President Roosevelt's inaugural parade with a group of horsemen, which included several former Rough Riders. It's also told that he was a Texas Ranger, but, in fact, it was just an honorary title given to him by then Texas Governor James Allred in 1935.
Mix's film career began in 1909 when he appeared in The Cowboy Millionaire. It was the same year that he marred Olive Stokes, of Dewey, Okla., and their daughter Ruth was born shortly after. While living in Dewey, Mix was actively involved in his film career, but also spent time serving as the Dewey Night Marshall, a bartender, and working on the historic 101 Ranch, which had its own traveling Wild West Show.
It's because of this connection that, a little over 50 years ago, the townspeople of Dewey decided to open a Tom Mix Museum to bring in tourism. "The collection had come available because when Tom died, he left it to an attorney friend. When the attorney died, he passed it to his nephews. A group of people got together and raised $40,000 to buy the collection. This was the 1960s, so at the time it was a lot of money. The townspeople went to California and got it in 1966," Fawn Lassiter, Tom Mix Museum Executive Director, explained.
Although they had the collection, the townspeople had no place to display it, so it sat in the bank building until they could find an appropriate building to house it. "They had the Grand Opening in 1968. They thought it would be big and everyone would come, but they had to borrow money to buy the building and they couldn't pay it back, so the Oklahoma Historical Society stepped in in the early 1970s and took over," Lassiter explained.
Unfortunately, several years ago the state of Oklahoma's finances resulted in funding being pulled from the Museum. "We're still here, though. Fifty years tells that we've stood the test of time. We have memberships and people give donations at the door, and we fundraise so we can keep going," Lassiter said.
The Museum has a theater and will show Tom Mix movies and a documentary about his life. Between the museum and the annual Tom Mix Festival, visitors have come from all over the globe. "Last year I counted ten different countries represented at the Festival," Lassiter recalled. "We have a sign-in book from back in the 1960s, and John Wayne has visited. We get a lot from England and Australia."
According to Lassiter, most visitors are surprised by the Museum. "A lot of people will come in and say, 'Wow! I didn't realize there would be this much stuff here.' It's really pretty cool," she said. "There's actually a lot to do in Dewey. Right across the street from us is the original hotel that was built in 1899, and we have several neat antique shops, so people can be entertained for a while."
Learn more about the Tom Mix Museum in the February issue of Oklahoma Farm & Ranch.