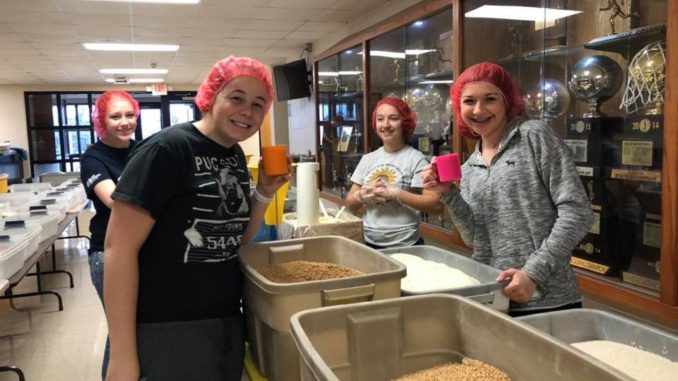 By Shadi Nettles
The National FFA motto is "Learning to do, doing to learn, earning to live, living to serve." FFA members from across the nation carry out this motto each day. Learning and serving is what this organization is all about; and Oklahoma FFA chapters excel in both of these categories. For the Alva FFA chapter of Alva, Oklahoma, serving others is second nature. One of this chapter's largest service projects of the year is packaging meals for Stamp Out Starvation, a non-profit organization located in Cherokee, Oklahoma. Stamp out starvation uses specific ingredients such as rice and vitamins to create vacuum packaged meals. The meals are then distributed to those in need, not only in Oklahoma, but overseas as well. For some people, many of whom are children, these meals are their only source of food.
However, before the meals can be delivered, they must be packaged. The Alva FFA chapter decided to rise to the challenge along with their fellow students from the Alva High School Key Club. The two student organizations joined forces to package 37,044 meals, which will feed hungry citizens in Haiti. Garrett Radford, Alva FFA President, speaks of the chapter's service project, "I had members coming back to help as many times as possible. The amount of energy we had was really inspiring." Radford goes on to explain what service means to him, "It doesn't have to be as elaborate as packaging meals to send to other countries. It could be as simple as giving someone a ride on a cold day."
The Alva FFA and Key Club will leave a lasting impact on the lives of thousands of people because of this selfless act of service. Oklahoma FFA members are truly, living to serve.
Learn more about the FFA in the March issue of Oklahoma Farm & Ranch magazine.