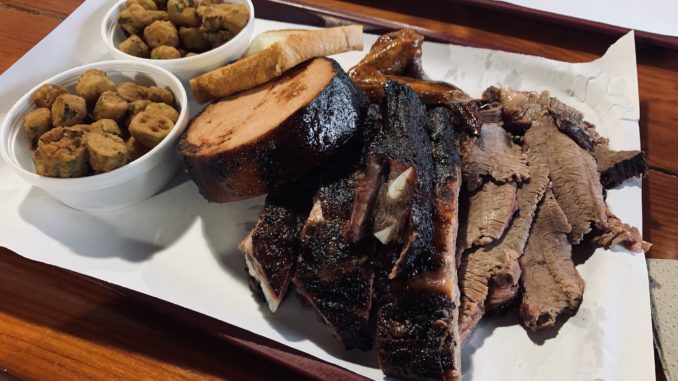 Jollyville, Oklahoma
A few weeks ago, some friends managed to talk my boyfriend and me into driving south of Davis, Okla., to eat at Smokin' Joe's Rib Ranch. Just to clarify, this 40 minute trip was strictly to go eat. While Davis is a charming Oklahoma town that I'm fond of, it's not a mecca of entertainment. I'll admit that in my six years of making weekend trips from Texas to Oklahoma, I'd frequently passed the restaurant and pondered if it would be worth stopping in. While we had listened to our friends talk about the deliciousness of the restaurant and the heaping servings of food you get with your meals, we weren't convinced it could be good enough to drive an hour and a half round-trip.
Which is why you should listen to me when I say you should take the time to stop in for a slab of ribs, a heaping pile of pulled pork, a hot link or two, or any of the other delectable meats they have on the menu.
With some research, I found that the owners of Smokin' Joe's Rib Ranch began cooking BBQ in their Sulphur, Okla., gas station in 2004. Soon, the lines for BBQ got longer than the lines for gas, and soon they were looking for a second location. The original plan had been for a seasonal location, but they found a small bar south of Davis, and the family began the task of refurbishing it. When it opened in December of 2007, it boasted 34 chairs (including two high chairs), and a drive-up window.
Things have certainly changed since then. The restaurant is open from 11 a.m. to 7 p.m., Monday, Tuesday, and Thursday, and from 11 a.m. to 8 p.m. Friday and Saturday. It's closed on Sundays and Wednesdays.
Smokin' Joe's, located just off of I35, also has several RV parks, and is in close proximity to the Arbuckle Mountains, the Chickasaw National Recreation Area, and Arbuckle Lake. With a chic western boutique also on the premises, it also provides for a great shopping opportunity.
For more information about Smokin' Joe's Rib Ranch, you can find them on Facebook or visit the website at www.SmokinJoesRibRanch.com.