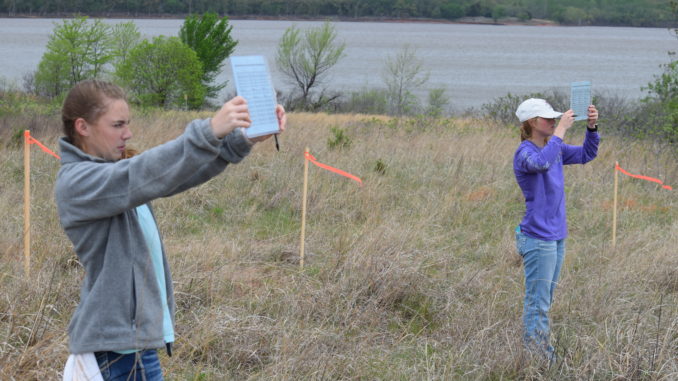 Amy Seiger
State of Oklahoma Soil Health Coordinator
It was the spring of 1989 when an all-out war of the ages broke out into the Overturf house of Stonewall, Okla. Gene and Susie Overturf, my parents, had informed me at the age of 10 that I would be competing on the local 4-H land judging team. Dad was Pontotoc County Farm Service Agency Director. He wanted to help with my 4-H group, and this was the perfect way. He studied the rules for the state land judging contest and wanted Stonewall, Okla., to have a team. The war at the Overturf house wasn't even about jumping down into a deep hole and spending hours staring at dirt; it was the idea of all boy teammates that prevented me from wanting to compete.
My 10-year-old self would have never dreamed that 30 years later, I would be thrilled to jump down into a deep hole with a bunch of teenagers, or that I would be helping with a competition that shaped my life. Each May for the last 67 years in Oklahoma, at a top secret location, students from across the country line up to begin the National Land, Range and Homesite Judging Contest. In a lot of ways, it looks like a modern day land run. Over 600 students from across the country invade Oklahoma to compete in the land, range, and home site national competitions. The Oklahoma Association of Conservation Districts (OACD) has been a primary host since 1987 for over 40,000 students from more than 30 states throughout the competition's duration. WKY Radio and TV were the first primary sponsors to help host this event in 1951. Now there are over 30 sponsors to make sure these contests occur regularly. How does a small state organization help host such a large event? Ask Don Bartolina, Oklahoma County Conservation District part time manager, and he will sing praises of the army of volunteers working diligently and sponsors donating behind the scenes that makes this educational event so successful.
The competitors for the contest are 4-H and FFA students from several states. The contest is broken up into three areas: land judging, range judging, and home site. Each team is comprised of four students who judge in their respective competitions. Each student works separately and then the top three scores make the total team score. The land judging focuses on land class for management. Four large pits are dug in a field, slope stakes are setup 100 feet apart for each pit, and two soil texture samples are collected per pit as well. Texture, slope, depths and many other evaluations are all done with no instruments except the students' hands, eyes, and knowledge. From those answers, they are to determine the best land management practices for that site.
In another location visible from the land judging pits, the range judging focuses on plant identification. Students study over 100 different types of plants and then have to identify 30 of those 100 plants during the contest. They must remember if the plant is good for grazing, wildlife, and or if it is an invasive species.
The homesite competition uses the same pits as the land judging, but instead of land use evaluation, the pits are used for home site building. The students determine if each pit location would with stand and pass standards for structural buildings. For example, is the texture suitable for building homes and septic systems? Students spend many hours preparing and practicing for these competitions in hopes to eventually make it to the national competitions. To qualify for the National Land, Range, and Homesite Judging Contest, each state holds its own state competition and the best team(s) get to move onto nationals. Because landscapes and plants are different across the country, Oklahoma allows two days for teams to practice. It takes over 25 soil and rangeland scientists from Natural Resources Conservation Service (NRCS), Soil Survey, Oklahoma State University, and the Oklahoma Conservation Commission (OCC) to help setup and staff practice sites the Monday before the competition.
Although it only takes 25 scientists to help with competition setup, it takes more than 150 volunteers to host this competition each spring. The volunteers and sponsors are from more than 50 Oklahoma Conservation Districts and over 30 different agencies, organizations, and groups. Though the competition appears to be only a week-long event, there are many months of unseen organizing and planning. Once the second week of May hits, the next year's preparation begins.
Read more in the April issue of Oklahoma Farm & Ranch.