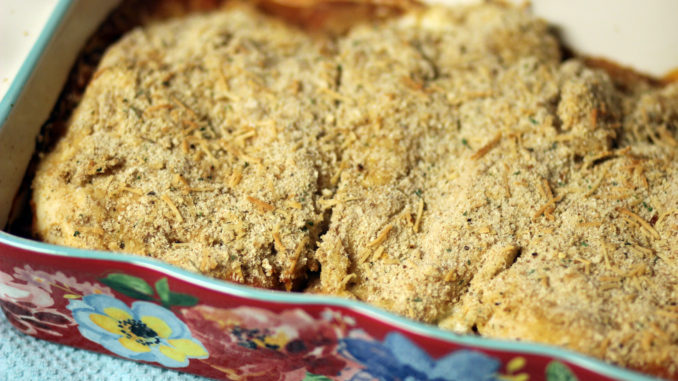 Total Time: 45 minutes
Serves: 4
Ingredients
For the chicken
4 thin chicken breasts no thicker than 1/4 inch
1 cup Italian seasoned breadcrumbs
1/4 cup parmesan cheese
1 egg beaten
1 1/2 cups marinara sauce
For the lasagna filling
1/2 cup shredded provolone or mozzarella cheese or a mixture of the two
3/4 cup ricotta cheese
1/4 cup parmesan cheese
1 tbsp fresh chopped basil
1/4 tsp garlic powder
1/2 tsp salt
1 egg beaten
Instructions
1. Preheat oven to 375 degrees. Pour sauce into the bottom of an oven-proof skillet or casserole dish.
2. Set up a chicken dredging station, with one shallow bowl of egg and one of the parmesan cheese and breadcrumbs. Dredge chicken through egg, shaking off excess, then through the breadcrumb mixture, making sure to coat both sides equally. Set chicken aside.
3. Mix together lasagna filling ingredients in a small mixing bowl. Split filling evenly between the four chicken pieces. Place filling in the center of each chicken breast. Roll chicken over, tucking in one end under the other.
4. Place seam side down in the sauce. Bake for 30-35 minutes or until chicken is cooked through. If cheese runs out, push back in before it cools. It will set up as it cools. Let sit 5-10 minutes to allow ricotta mixture to set up.