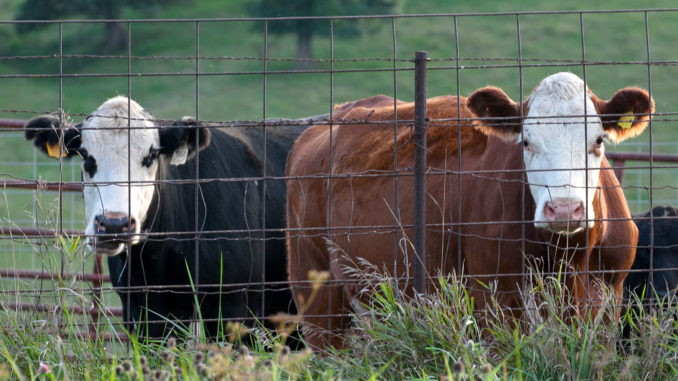 Barry Whitworth, DVM
Area Food/Animal Quality and
Health Specialist for Eastern Oklahoma
Recent events such as African Swine Fever in China, Porcine Epidemic Diarrhea at the Oklahoma Youth Expo and Virulent Newcastle Disease in California have shown how vulnerable livestock operations and events are. These and other diseases could have a devastating impact on livestock producers in the state. The best defense against these threats is a good biosecurity plan. If producers do not have a biosecurity protocol, they need to develop one and if they have one, they should review it.
What is biosecurity? "Bio" is life and "security" is protection. Biosecurity is the development and implementation of management procedures to reduce or prevent unwanted threats from entering a herd or flock. The protocol is designed to reduce or prevent the spread of these threats through the herd or flock if a pathogen does enter the herd or flock. Lastly, a biosecurity plan is designed to prevent the threat from infecting neighboring livestock operations.
Biosecurity is one of the best disease prevention methods available to livestock producers. It cost very little to implement, but it can be a challenge to maintain the program. When reviewing the 2014-2015 Avian Influenza outbreak, failure to follow biosecurity protocol was the main reason given for the spread of the virus. To have any realistic chance of a biosecurity program being successful, all parties involved in the operation must be willing to fully participate. If one person fails to comply with the protocol, the program is doomed to fail.
Biosecurity can be broken down in to four basic areas which include traffic, isolation, sanitation, and husbandry. Livestock producers must attempt to control traffic on their operation. Livestock operations should have a perimeter buffer area. For ranches, this would be the perimeter fence. For poultry operation, this could be the fence that surrounds the poultry house. All entry points need to be clearly marked with "Do Not Enter" signs. Producers should not allow anyone to enter the area where animals are kept unless it is absolutely necessary. People may unknowingly carry dangerous organisms on their clothes or shoes. If visitors are allowed on the premises, producers should make sure that they wear clean clothes and shoes. Producers should provide disposal shoe covers and a place to wash hands and dip shoes before and after entering the farm. Any producer that visits another livestock operation should shower and change clothes and shoes before having contact with his or her own animals.
Owners must also attempt to discourage contact with other animals domestic and wild.  Making sure that the ranch is kept clean and free of brush will discourage wild animals.  All feed should be kept in feed bins or storage containers to prevent attracting wild animals.  Rodents and insects should be controlled.  Cattle, and especially pregnant cows, should be discouraged from having nose to nose contact with neighboring cattle.  This can be accomplished by placing an electric wire inside the perimeter fence.  Producers should discourage visitors from bringing their animals to the operation.  These animals may carry a pathogen on their bodies or be sick and infect other animals. 
Read more in the June issue of Oklahoma Farm & Ranch.