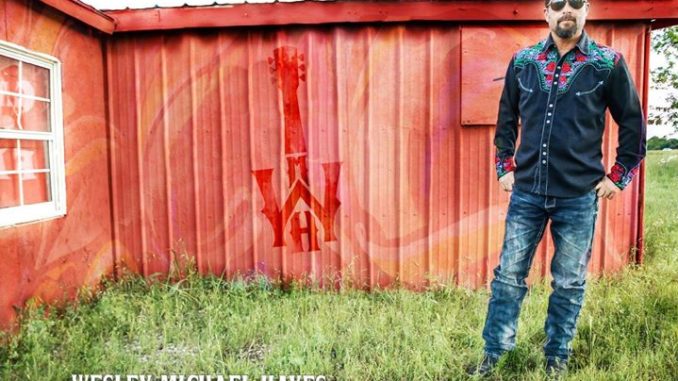 By Jan Sikes
There are some careers that blend together seamlessly, and others that don't mix quite so easily.
That is the case with music artist and school teacher/coach, Wesley Michael Hayes.
Born in Muskogee, Hayes came into a family of athletes and musicians.
"My grandfather on my mother's side was one of four brothers who all played instruments from the fiddle to banjo and guitar," said Hayes. "So, those four brothers were all front porch pickers and did what they could to survive in the hills. The stories go that they ran liquor and other things, but they were talented musicians, too."
Since Hayes plays guitar, I assumed it was his first instrument, but that wasn't the case.
"When I was 11, they gave us a test in school to see what instrument we were best suited for. I scored in the top percentile. When they introduced us to the band director, I went right past everything else straight to the drums. She asked me what I was doing, and I told her I was going to play them. She said I couldn't, and I told her I could. So, she told me to show her. She turned on the radio, and I'll never forget a Hall and Oates was on. I jumped right in and started playing along."
While the music teacher was impressed with his natural ability, she told him he would have to start on the bells like every other new percussionist.
"I had to work my way up to be worthy of sitting behind the drum set," Hayes admitted. "My grandpa had a guitar with only two strings on it that he let me bang around on when I was just a kid. I was drawn to any instrument. If I were a wealthy man today, I'd own every instrument known to man and would try my best to play them all."
One must wonder how two strong and demanding careers come together. For Hayes, he said there was never a thought about it. It just happened.
"It's not easy to figure out how two totally different and separate careers happened for me," Hayes said. "I've always been an athlete. I'm competitive by nature. My father was a coach. I had uncles who were coaches and had four cousins who played college ball, so athletics were second nature to me. I wanted to become a coach because of coaches throughout my life who took a vested interest in me and helped me succeed. I wanted to do that for other kids."
He makes a comparison between coaching and teaching to playing music.
"Athletics is a release for me. To step away from the confines of life and scream and yell my team to victory is a great feeling, and music is the same. It is a release, a chance to let go and be creative. But do the two mix? Not well. Between October and March, I am not able to gig because my voice is shot from coaching, and it takes a while to recover. So, my music has to take a backseat to the career that pays the bills."
But despite it all, with more than 20 years of teaching and coaching under his belt, Hayes still manages to write and record new music.
His new album, X of Me, is diverse and showcases his songwriting talent.
Read more in the May issue of Oklahoma Farm & Ranch magazine.