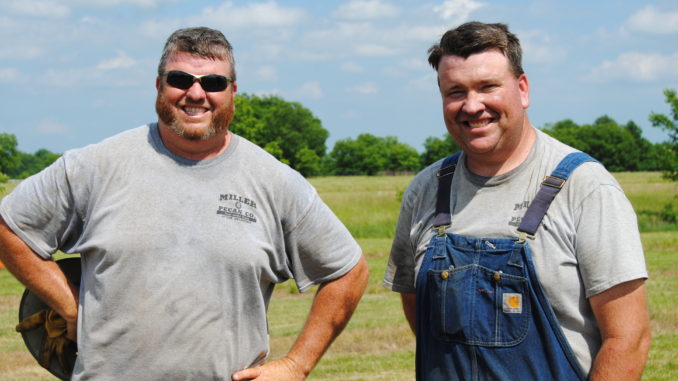 It began in the mid-1980s when, alongside their father Len, Justin and Jared Miller began to grow and harvest pecans. As their knowledge of the industry grew, the brothers worked to evolve and expand the family's business.
From first building a custom cleaning facility in a nearby Kansas town, to constructing harvesting facilities in Miami, Oklahoma, to finally landing a home in Afton, Oklahoma, the family business has continued to grow and progress. In 2017, the Miller brothers were recognized as the Growers of the Year by the Oklahoma Pecan Grower's Association, and in 2018 were named the Small Business of the Year by the Miami Regional Chamber of Commerce.
Miller Pecan Company, now one of the largest pecan companies in the state of Oklahoma, came from humble beginnings. It all began in the mid-1980s, when founder Len Miller was in need of a job. He had been employed at tire manufacturer BF Goodrich, and when the company shut its doors in 1986, more than 1,000 people were jobless. Len had the opportunity to follow the tire giant to its new home in Tuscaloosa, Alabama, but elected to stay in Oklahoma.
Looking for a way to make money in addition to his new job at the ammunition plant, Len began harvesting pecans for extra cash, and soon bought his first pecan picker. His sons Jared and Justin, at the time eight and 10 years old, joined him in the fields.
Still, it wasn't a certainty that the brothers would continue in the pecan business. As they got older, they began to look towards different career paths. Justin went to nursing school, while Jared went to college.
While older brother Justin pursued a nursing career for a couple years, it wasn't the best fit, and soon Jared joined him and Len back at the pecan farming operation, which continued its steady growth.
In 2000, the brothers made a big business move, purchasing a custom pecan cleaning facility in Chetopa, Kansas. "We used to clean pecans for everyone up there, but we sold it to another local grower in 2006," Jared explained.
"We purchased the big farm in Miami in 2001," Justin noted. The new farm on the fertile land equated to a lot of room for expansion, including a new custom cleaning facility. The Miami farm already has countless native pecan trees. "A tree can produce pecans easily up to 120 to 130 years, and there are a lot of older trees in production. Unfortunately, once trees get that big, storms can tear them down," Jared explained. "Many of the trees were here before statehood. We've cut down and counted rings on several of ours, but once we get to about 110 or 120 rings, they all start running together."
Now, Miller Pecan Company farms more than 1,000 acres with more than 24,000 trees in the river bottoms and creek beds around Afton and Miami, Okla. "We have a really rich river bottom soil that is kind of a real silty loam. It can hold moisture a long time, and we get quite a bit of rainfall in this area. The good thing is that we can go weeks at a time without rain without the trees being affected at all," Jared explained. "The only downside is that it dries out very slowly, so sometimes we'll be wanting to work but we just have to be patient and wait."
Unfortunately, Len Miller was unable to see the continued growth of the business he started with his sons. He passed away in 2010. "The farm was doing really well, but he didn't get to see what it is today," Justin said.
Expansion continued in 2014, when Justin and Jared opened a new processing plant with a retail store in the northeast town of Afton. Along with pecan delicacies, the store also offers a host of other local products such as honey, oil, jellies, nuts, syrups, noodles and more. "My wife Carrie and Jared roast the praline and cinnamon sugar pecans, and the savory pecans are custom roasted by another Oklahoma company," Justin explained. "A lot of our products are pecans we sell to other companies, and then turn around and buy their products to resale in the store."
While both brothers work in the processing plant, they both have their areas of focus. Justin runs the processing plant, ensuring everything runs smoothly, while Jared is the authority on buying and selling.
While the brothers are the face of the company, most of the family is involved. Justin's wife Carrie helps run the business day-to-day, doing everything from bookkeeping to pecan roasting. "I have a son, Seth, who is a freshman at NEO, and my daughter Katie is a junior in high school," Justin said. "During the holidays Katie will come every day after school to help, and Seth has been working at the farm since a young age with various jobs, such as raking, mowing, and harvesting."
Jared and his wife Ashley have three boys; Hayden, 12; Hayes, 10; and Holden, 6. "My oldest boy Hayden is just starting to drive tractors, but the others are still a little young," he explained.
Thirty years ago, the brothers didn't expect for Miller Pecan Company to be the successful venture it has become. "But with a lot of hard work, dedication, and great employees, anything can be achieved," Justin said.
Read more about Justin and Jared Miller in the June 2019 issue of Oklahoma Farm & Ranch.