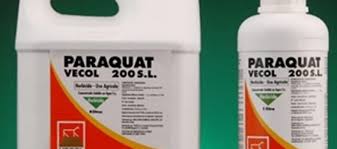 By Everett Brazile III
Paraquat has long been used as a broad-spectrum herbicide, as it attacks a variety of weeds across the state. Applicators using the herbicide will now have to follow additional requirements for use in the 2020 season, as the EPA cracks down on the dangerous side effects the product can have.
Paraquat is a broad-spectrum contact herbicide sold under numerous brands, including Blanco, Bonfire, Devour, Firestorm, Gramazone, Helmquat, Paraquat, Parazone and Quik-Quat. The product is used for weed control prior to crop emergence. Like glyphosate, the ingredient in Roundup, it attacks numerous weed species, both grassy and broadleaf, and some that are proving to be problematic in Oklahoma, such as mare's tail and kochia. Other weeds found in Oklahoma include cheatgrass, cocklebur, giant ragweed and volunteer wheat. Producers have found numerous uses for the herbicide, such as in no-till systems, as well as controlling glyphosate-resistant weeds.
"It's a non-selective herbicide that pretty much kills everything," said Todd Baughman, Oklahoma State University Weed Science Program Support leader. "It is labeled in many of the crops we grow in Oklahoma."
Some of those crops include corn cotton, peanuts and soybeans, which are all produced in the state.
Unlike glyphosate, there are no resistant traits in any crop to identify tolerance to the herbicide, so applicators can only use it before crop emergence.
"It controls the existing vegetation. There aren't any transgenic crops (resistant to it), so it's used as a burndown or fallow weed control," he said. "It's either used by itself or in a combination with other herbicides, but a lot of times, we see it used by itself as a burndown product."
The herbicide has long been labeled as restricted use, meaning applicators, both private and public, must receive certification for use in the field, or even handling the product. The EPA is now putting new requirements on the product, due to its toxicity to humans.
"The biggest problem with the product is it's highly toxic if ingested," Baughman said, "It can poison a person, if ingested."
Read more in the June 2019 issue of Oklahoma Farm & Ranch.