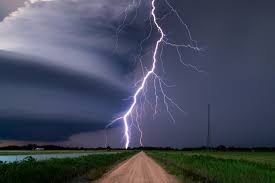 By Everett Brazil III
The Southern Great Plains has seen a cool, wet spring, driven by El Nino conditions that led to record rainfall in May and hampering wheat harvest and crop planting. While the state typically dries out in summer, especially July and August, the National Weather Service is now forecasting a continuation of those same conditions through the summer, and potentially into the fall season.
According to the June-August 2019 forecast, all of Oklahoma is expected to see an increased risk of lower temperatures and increased rainfall.
"The majority of the long-range climate model should continue over the summer, and even into next winter," said NWS meteorologist Phil Ware, Norman, Okla. "They are forecasting better chances of above-normal precipitation and below-normal temperatures for July-August. The entire Plains have a better chance of (temperatures) below normal, 70 percent, and 55-60 percent for fall."
Southern Plains growers have already had problems from the weather. For one, warm season crops, such as cotton, corn, soybeans and sorghum, have been delayed in planting.
"When you look at a cooler, wetter summer, you have to look at things outside June and July, because we have been so much cooler and wetter in April and May. We are now having a lot of our crops go in later in the year, and so because of that, we have these late plantings," said Josh Lofton, Oklahoma State University (OSU) Cropping Systems Extension Specialist, Stillwater. "We're typically concerned with a hot, dry August."
Weed pressure will likely be a problem in summer crop production, as the continued precipitation will be good for both crop and weed growth. Those same conditions may also make it difficult for weed control, as producers will have more difficulty getting into the field.
"Two big issues are weeds and trying to manage weeds," Lofton said. "The bad thing about weeds is, they don't have to be planted. I think weeds will be one of our biggest challenges."
Weeds are not alone in negatively impacting the crops, as many diseases also favor cooler, wetter conditions, and could be more prevalent this season. Those weeds include rotting diseases for both stems and roots, Lofton said.
Read more in the July 2019 issue of Oklahoma Farm & Ranch.