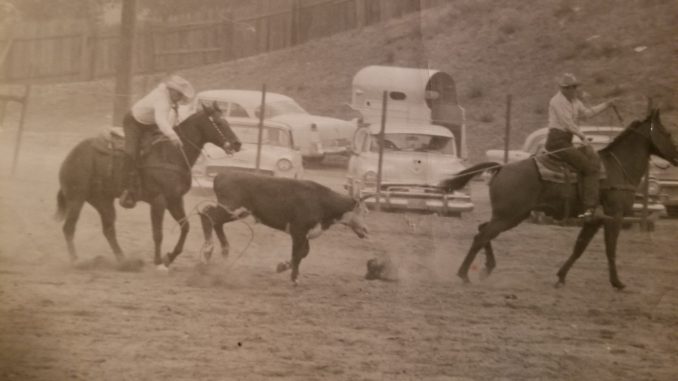 For rodeo fans, there are names that bring instant recognition. Hearing Trevor Brazile, Tuf Cooper, or Junior Nogueira promptly recalls fast loops and incredible accuracy. There is no doubt that today's stars have revolutionized the sport of rodeo, ushering a new era of even faster and competitive ropers.
Still, it's important to remember the ones from the beginning of rodeo's history, and that's what Karen Rubio, of Stonewall, Okla., has endeavored to do.
You see, Karen's father, Charles Maggini, holds the distinct honor of being the first cowboy to hold two world titles in different events in the same year. In 1929, long before the Professional Rodeo Cowboys Association's predecessor, the Cowboys' Turtle Association was formed in the mid-1930s, professional world titles were recognized in rodeo for the first time.
That year, Maggini, who held Gold Card No. 562, claimed the championship in both team roping and steer roping. Another cowboy, Earl Thode, won the All Around title as well as the saddle bronc championship.
"My dad was born in 1894, way back in the mountains on his father's cattle ranch in San Benito, Calif.," Rubio explained. "He was the youngest of seven children and grew up riding his horse into town once a year. He was around horses and cattle his whole life."
Maggini competed at the first Salinas Rodeo in 1911, riding his horse and leading two or three others a distance that, now, would take more than an hour in a car. He competed in roping, bull riding, and bronc riding. He also showed in the stock horse and hackamore classes on the track.
A few years later, Maggini continued to hone his roping skills on the famed Miller & Lux Ranch, which consisted of ranches in California, Oregon, Utah and Idaho. According to one source, in a hand-written letter about his time on the ranch, Maggini wrote, "We ran 36,000 head of cattle and branded around 8,000 head of calves each year, and we roped them, so we had plenty of practice."
During World War 1, Maggini moved to Camp Lewis in Washington. "He became a quartermaster sergeant and trained horses for the U.S. Calvary before coming back to continue his rodeo career," Rubio said.
Maggini wasn't just a cowboy. He was, as his friends attested, an expert horseman. "He trained horses in the old vaquero tradition, teaching a horse to have a soft mouth and going from a snaffle, to a hackamore, then to a two rein, and finally a bridle," Rubio explained. "He showed bridle and hackamore horses in addition to doing all the arena events and was also a pickup man at some of the rodeos."
Maggini continued to rodeo until the late 1970s. Many people wanted to write a book about him and his story, and some friends talked him into making a documentary style movie. "They began shooting the movie in 1982. At the time, he was in his mid-80s and still riding six days a week. Unfortunately, he had a stroke during the filming, and passed away before it was completed," Rubio said.
Luckily the film was able to be completed, and at its premier more than 1,500 people came to pay tribute to the cowboy. "They showed the movie at several different rodeos like Salinas. It was nice to have, because he never thought or acted like he was anything special, but he was," Rubio said.
Learn more about the life of Charles Maggini in the July issue of Oklahoma Farm & Ranch.