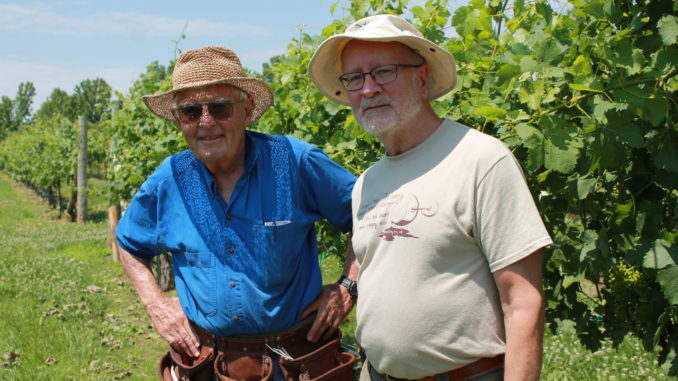 The Reverend Bob Wickizer
Forty-three years ago, in France, a stunning and unfathomable event that came to be known as the Judgment of Paris revolutionized the wine industry. At the time, France was clearly the foremost producer of the world's best wines. Organized by a British gentleman, the finest wines of France were pitted against several unknown California bottles in a blind taste test.
The crème de la crème of the French wine industry was picked as judges; but the event was barely covered in the media. Why should it have been? It was a non-story, because the French knew the outcome was a foregone conclusion.
Only one reporter showed up, and he got the story of his career.
To everyone's amazement, the California wines bested their French competitors.
It's a scenario Bob Wickizer, of Muskogee, Okla., would like to see play out again, only this time with Oklahoma wines playing the role of David, and California vintages as Goliath.
Wickizer, a Missouri native, might be the one to do it. He's co-owner of Pecan Creek Winery, founded in 2014, and has already dipped his toes into International wine competition. So far, the results have been remarkable.
Already in 2019, at the Texas International Wine Competition, Pecan Creek Winery's Estate Chambourcin-Whiskey Barrel Aged wine won Silver, while Cowgirl, a sweet red Chambourcin, took a Bronze and Whisper to Me, a Moscato sweet white, also won a Silver.
At the Finger Lakes International Wine Competition in New York, Rebecca Rose', a dry rose', and Marley's Merlot both finished with Bronzes.
This marks the Winery's fourth year of competition, but perhaps the best foreshadowing of a possible "Judgement of California," came at the 2018 San Francisco Chronicle International Wine Competition in December, when Pecan Creek Winery's Estate Cabernet Sauvignon was pitted against several hundred of the best California Cabernets, and finished with a Bronze.
The Physicist
Born in Springfield, Missouri, Wickizer has always been a high achiever, and at 67 has led an extraordinary life that, no doubt, contributes to Pecan Creek Winery's success.
His uncle, Dr. Robert J. Moon, was brilliant. He skipped college and began graduate studies at 16 years old and earned his PhD at 19 at the University of Chicago. "That was unheard of. He went on to be one of the senior scientists on the Manhattan Project," Wickizer explained, referencing the famed research and development project during World War II that produced the first nuclear weapons. "Anyways, my family was all lawyers except for him, and they expected me to be his protégé and become a scientist."
Wickizer had passed all his courses, qualifying exams, and had even written part of his dissertation before deciding to change course. "I threw it in the trash and told my advisor it wasn't my calling," he said.
With his doctoral work in physics, Wickizer designed medical CT and MRI scanners when they were first developed in the 1970s. Interestingly, most of the basic technology for those machines came from that work, and it continues to be the core of today's machines. "It's kind of cool knowing that we delivered this life-changing imaging technology," he said.
Wickizer also did a stint teaching at the University of Missouri School of Medicine and the University of Chicago School of Medicine, teaching physics to radiology residents.
He then started a software company in medical imaging. "We sold it to a big firm in California and moved all our employees out from Missouri. It was like the Beverly Hillbillies," he said with a laugh.
At 29, in 1980, he married his wife Joan, and two daughters, Laura and Rebecca, followed after. During this time, Wickizer was "bouncing around California." He added, "I had an apartment in Seoul, and one in Toronto and family in California. You haven't lived until you fly to Sydney for dinner, stop off in Tokyo for another meeting, then go back to Toronto and then home to California in five days," he said with a laugh.
The Priest
Around the beginning of the Korean project, Bob sat Joan down for a talk. "It was definitely a 'Sit down, honey,' type of conversation," he recalled.
Wickizer's father, Wilbur F. Wickizer, had passed away, and while at the funeral Bob encountered many of his friends. "I met several people he had touched. The meaning of one's life at the end, I've decided, is you can either make people rich financially, or make them well off in ways that really count," he said.
Already active in the Episcopal Church, that experience pushed the physicist to enter Seminary.
Read more about Bob Wickizer's journey from physicist to vintner in the July issue of Oklahoma Farm & Ranch.