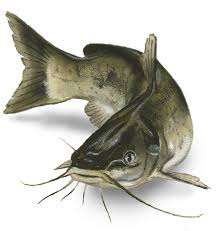 By Michael Newell
Let's paint the scene. A barefoot, no shirt, boy laying on a creek bank with a cane pole and length of line dangling in the dirty water. Something strait out of a Mark Twain story. But hold on!
While a relaxing trip to your favorite honey hole may take you back in time to a more carefree day, catfishing doesn't necessarily have to fit the old lazy fishing style, it can be much more exciting than that.
While catfishing doesn't exactly have the excitement and routine of today's fast-paced bass fishing, nor does it require consulting moon charts and temperature gauges to identify the bait of choice for finicky crappie. Nor does it have any modern action packed video games based on it. In fact, catfishing doesn't seem to require much of anything beyond a stretch of dirty water and a bucketful of foul-smelling bait.
Unfortunately, that image doesn't do the catfish justice. They'll often bite when nothing else will, and he has no peer when it comes to sheer power. In fact, Oklahoma offers few summer thrills as challenging or as exciting as battling giant blue and flathead catfish.
With its diversity of lakes and rivers, Oklahoma is blessed with an abundance of prime catfish water. Lake Texoma is the most famous lake in the state for big blues, channels and flatheads, but Lakes Eufaula, Arcadia, Foss, Waurika, Fort Cobb, and Ellsworth, can also boast of good catfishing. And with water levels finally up at normal depths (or higher) catfish are beginning to bite.
The Oklahoma Department of Wildlife Conservation stocks many waters with channel catfish. They generally don't get as large as blues and flatheads, but they still offer plenty of opportunities for summer fishing and are hard to beat as far as taste.
A popular misconception about catfish is that they're bottom feeders that prefer their meals dead. Actually, flatheads are voracious predators with a special taste for live shad or sunfish. Blues are more opportunistic, but they prefer live bait, as well and channel cats, well, channel cats will take any bait from stink bait to live minnows.
To catch the really big cats, you need a larger bait. The best way to start a catfish safari is to catch a mess of live shad from the water you'll be fishing. This can be done in about 20 minutes with a throw net. An aerated livewell or battery powered air pump will keep bait fresh and healthy.
A trick that many catfishermen use when baiting hooks with live shad is to fray the tail fin of the shad. Predators such as blues and flatheads will typically focus on the injured or slower moving baitfish. A bait appearing to be injured will sometimes draw more bites than healthy ones.
Finding a good catfish hole takes a little work, but the best spots generally have the same characteristics. Look for deep holes behind current breaks or deep cuts on outside channel bends. Giant catfish lie in the deepest holes where the water is cool and wait for the current to bring them a meal. You can often mark fish with an electronic graph and then catch them by drifting a live bait overhead. In either case, the best fishing is in early morning and late evening, when fish are most active.
            Needless to say, trophy catfishing is a far cry from the stinkbait and dough ball outings you enjoyed as a child, but when you hang into a giant catfish, it amplifies all the things you loved about fishing in those simpler times.
Read more in the July 2019 issue of Oklahoma Farm & Ranch.