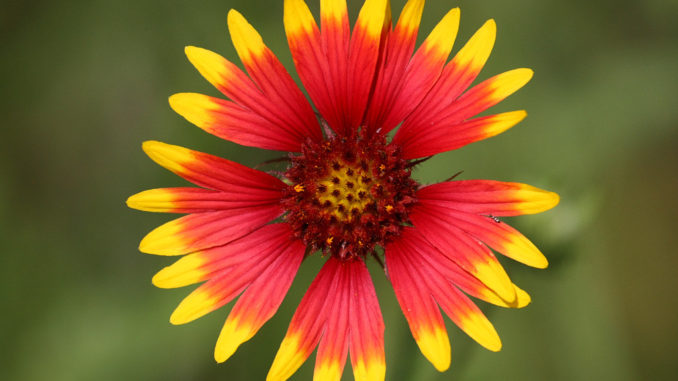 Impress your friends with these 40 interesting tidbits of Oklahoma trivia.
The first capital of Oklahoma was in Guthrie, but was moved later to Oklahoma City following a vote of the people.
Turner Falls Park in Davis is the oldest park in Oklahoma. Many springs from the world famous Arbuckle Mountains form Honey Creek that cascades down a seventy-seven foot fall to a natural swimming pool making the majestic Turner Falls the largest waterfall in Oklahoma.
Oklahoma City was settled by the historic Land Run of April 22, 1889. The city's population grew to more than 10,000 in a single day. It is the largest city in the State of Oklahoma, with a metro population of more than 1.3 million.
I-35, I-40 and I-44 all converge in Oklahoma City. The metropolitan area has 130+ miles of federal interstate and state highways.
Oklahoma City averages more than 300 days of sunshine per year.
The world's first installed parking meter was in Oklahoma City, on July 16, 1935. Carl C. Magee, of Oklahoma City, Oklahoma, is generally credited with originating the parking meter. He filed for a patent for a "coin controlled parking meter" on May 13, 1935.
The first shopping cart was invented and used in Oklahoma City at Standard Food Markets in 1937 by Sylvan Goldman.
Boise City, Oklahoma was the only city in the United States to be bombed during World War II. On Monday night, July 5, 1943, at approximately 12:30 a.m., a B-17 Bomber based at Dalhart Army Air Base (50 miles to the south of Boise City) dropped six practice bombs on the sleeping town.
Oklahoma's state motto is Labor Omnia Vincit – Labor Conquers All Things.
Bob Dunn a musician from Beggs invented the first electric guitar 1935.
Oklahoma City is equal distant from Los Angeles and New York, and within 500 miles of 71 million people.
Phillip H. Sheridan, George A. Custer and William T. Sherman were the founders of the USA's main artillery fort at Fort Sill.
Choctaw is the oldest chartered town in Oklahoma. Choctaw gained status as a town in 1893.
The Amateur Softball Association of America – a volunteer-driven, not-for-profit organization based in Oklahoma City, OK – was founded in 1933 and has evolved into the strongest softball organization in the country.
A statue entitled "Hopes and Dreams," in downtown Perry was created by local sculptor Bill Bennett and placed there on a massive granite pedestal as a Cherokee Strip Centennial memorial. The statue portrays an early-day couple coming to the newly opened western frontier.
Clinton Riggs designed the YIELD sign. It was first used on a trial basis in Tulsa.
Okmulgee owns the world record for largest pecan pie, pecan cookie, pecan brownie, and biggest ice cream and cookie party. Each June, Okmulgee rolls out the welcome mat to thousands of its closest friends as the annual Pecan Festival comes to town.
The town of Beaver claims to be the Cow Chip Throwing Capital of the World. It is here that the World Championship Cow Chip Throw is held each April.
Spiro Mounds, Oklahoma's only archaeological park, is a 140-acre site encompassing 12 southern mounds that contain evidence of an Indian culture that occupied the site from 850 A.D. to 1450 A.D. The Mounds are considered one of the four most important prehistoric Indian sites east of the Rocky Mountains.
Garth Brooks was born in Tulsa, Oklahoma and grew up in Yukon, Oklahoma.
WKY Radio was the first radio station transmitting from west of the Mississippi River.
Belle Starr one of the most famous women outlaws is buried in an isolated grave southwest of Porum, Oklahoma near the Eufuala Dam.
In Guthrie nearly 20,000 lighters and "fire starters" are displayed at the National Lighter Museum. The nation's only museum devoted to the collection of lighters.
Oklahoma's four mountain ranges include the Ouachitas, Arbuckles, Wichitas and the Kiamichis.
Forest B. Lillie was a participant in the land run of 1889, and set up a tent for business as soon as shots were fired. Lillie's Drug was the first drug store established in Guthrie. Lillie was issued the No. 1 license certificate when the new state of Oklahoma registered him as a practicing pharmacist.
On the evening of March 25, 1948, a tornado roared through Tinker Air Force Base (AFB), Oklahoma, causing considerable damage, a few injuries, but no fatalities. However, the destruction could have been much worse. A few hours earlier Air Force Captain Robert C. Miller and Major Ernest J. Fawbush correctly predicted that atmospheric conditions were ripe for tornadoes in the vicinity of Tinker AFB. This first tornado forecast was instrumental in advancing the nation's commitment to protecting the American public and military resources from the dangers caused by natural hazards.
The slogan "Buckle of the Wheat Belt" designates Kingfisher. Kingfisher was the largest wheat market in America.
Oklahoma is one of only two states whose capital cities name includes the state name. The other is Indianapolis, Indiana.
Oklahoma's state wildflower the Indian Blanket is red with yellow tips. It symbolizes the state's scenic beauty as well as the its Indian heritage. The wildflower blooms in June and July.
Oklahoma has more man-made lakes than any other state, with over one million surface acres of water.